Description of the Apple Themed Worksheets and Activities PDF
1 PDF/  28 sheets
Apple Color Bingo Game
This bingo game is all about apples and their colors! Children need to fill their sheets with the different parts of their apple colors whenever that color is called. Once they have it filled, they can yell, "Bingo!"
5 sheets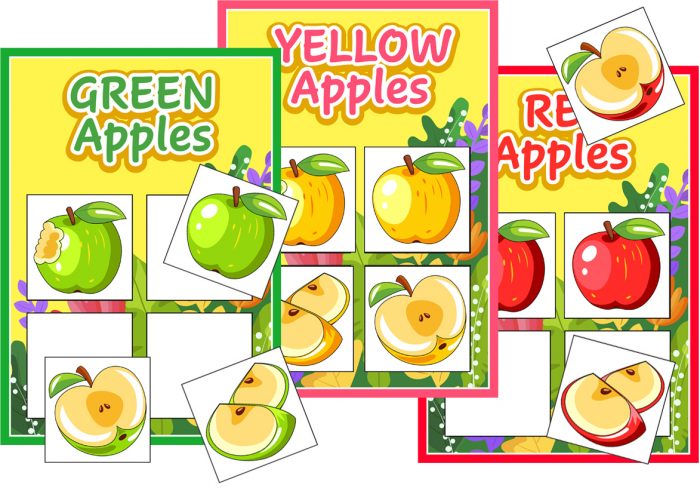 Apple Activities Printable Worksheets
I Spy Apples.
Count how many there are of each kind of apple and write it at the bottom!
Apple pattern.
Print two 2 copies of this sheet and then cut the second sheet into cards. Cut the other sheet up too and then have your child continue any patterns you make with the correct apples.
Apple Sudoku
This worksheet has two sheets for the sudoku puzzles and a third sheet where you cut the pieces shown into cards that you place where they belong on the sudoku boards to make sure nothing repeats–as Sudoku is played.
5 sheets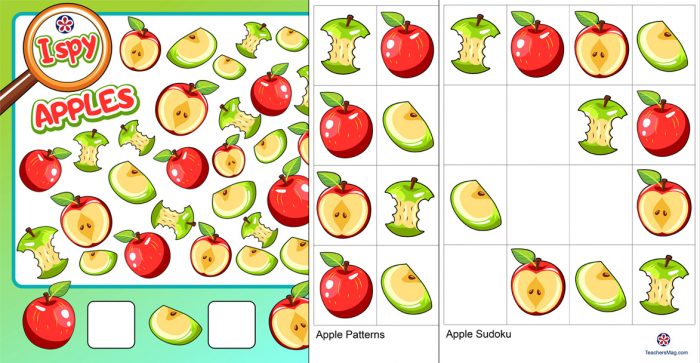 Counting Numbers With Apple Themed Math Mats
These apple-themed math mats are a hands-on way to help kids recognize different ways to represent numbers.
10 sheets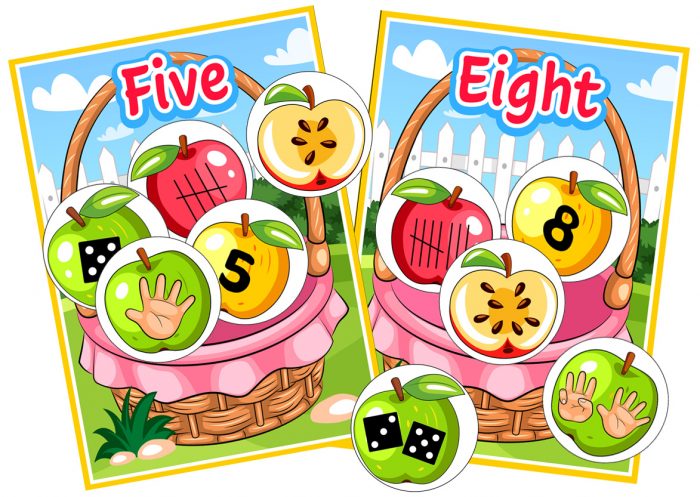 Apple Emotion Sorting Mat
Feelings such as sick, angry, surprised, happy, hurt, and sad are all represented. Children can see these emotions on each apple and then match it to the words describing that emotion on the apple tree.
2 sheets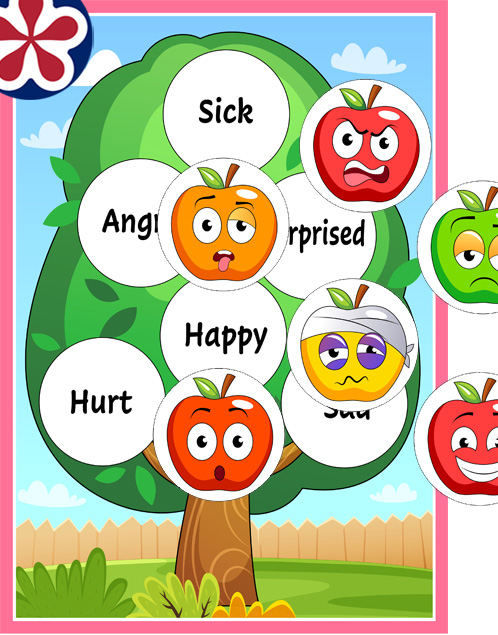 Sudoku-Themed Logic Puzzles for Preschoolers
For the first and second printable sheet, you need to color-in the apples or butterflies the correct color so that everything only appears in its region once, just like a regular game of Sudoku. The other printables are for making your own puzzles!
6 sheets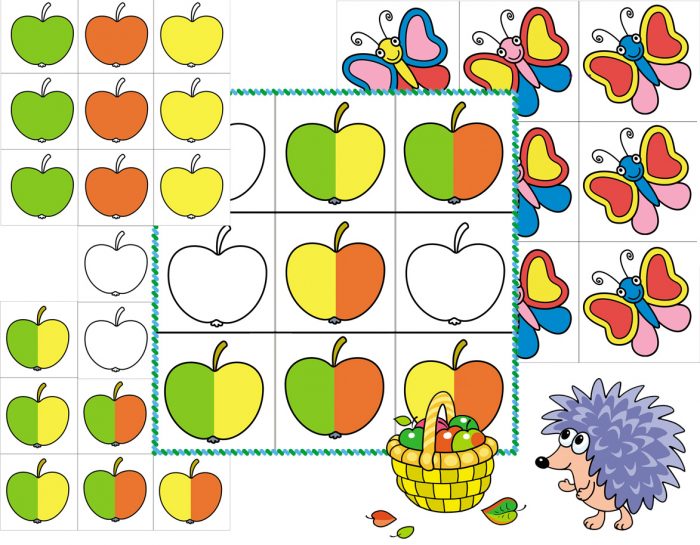 Total: 28 sheets
🍏🎉 Get Ready for a Bushel of Fun with Apple Themed Worksheets and Activities! 🍎📚
Step into the enchanting world of apples, where learning meets excitement in every juicy bite. Whether you're a dedicated preschool teacher or a parent eager to ignite a love for knowledge, you've just discovered a resource that turns apple-themed education into a crisp and colorful adventure.
Why Choose Our Apple Themed Worksheets and Activities? 🌟🍂
🌈 Apple Color Bingo Game: This lively game offers a playful way for kids to explore a spectrum of colors while enjoying the world of apples. It's a delightful twist on traditional bingo!
📝 Apple Activities Printable Worksheets: From dot-to-dot apples to word searches, our worksheets offer a cornucopia of activities that keep young minds engaged and eager to learn.
🍎 Counting Numbers With Apple Themed Math Mats: Learning math becomes an apple-picking adventure! These math mats make counting a breeze, letting kids embrace numbers through apple-themed fun.
😃 Apple Emotion Sorting Mat: Who knew apples could have emotions? This sorting mat allows children to connect emotions to these fruity friends, fostering emotional intelligence in a creative way.
🍏🍎 A Tantalizing Taste of Apple Facts:
🌳 A History of Flavor: Apples have a rich history dating back to ancient times and are one of the most widely cultivated fruits globally. They've been enjoyed for thousands of years.
🍏 An Apple a Day: The phrase "an apple a day keeps the doctor away" is rooted in truth. Apples are packed with vitamins and fiber, making them a healthy snack choice.
🌱📦 Fostering Curiosity and Discovery: Our apple-themed worksheets and activities aren't just about education; they're about nurturing a sense of wonder. Let's play, learn, and grow together, where every day is an apple-filled adventure! 🌟🍂🎨