Description of the Valentine's Day-Themed Printable PDF
2 PDF / 48 sheets
This set of printables contains 48 sheets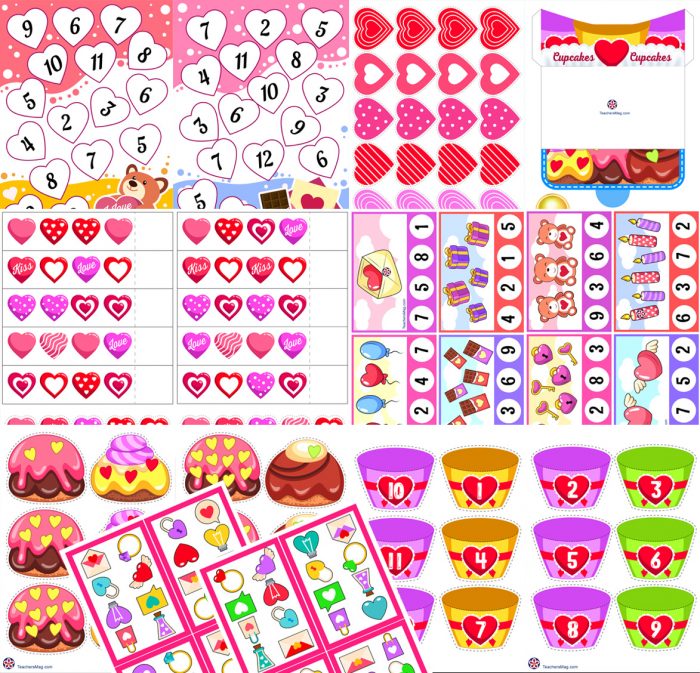 Valentine's Day-Themed Printable
Clothespin Counting. There are eight cards total which are printed over two sheets.
Heart Patterns.  There are two sheets for this activity with hearts at the bottom which can be cut out and pasted into the correct pattern.
Valentine's Day Cupcake Math Printable Activity. 4 sheets. These printables are all about counting and matching numbers!

Dice Rolling and Cover Game. This set of printables contains 2 sheets that have the numbers 2-12 (these numbers will be rolled with dice).
"Seek It," Game – There are 8 playing cards over 2 sheets.
How to Play the, "Seek It," Game
First, two cards are taken from atop the pile of cards and are then laid out on the table, picture-up.
Players then need to find the same pictures on their cards, making sure they match not only in shape but in color too.
The player who finds the first matching-card takes the one on the table for himself/herself.
The other card that is still on the table remains, "Open," and can be searched for still. The player who finds its match picks it up for himself/herself too!
This process continues until the cards are all claimed, with the winner being the one with the most cards at the end of the game!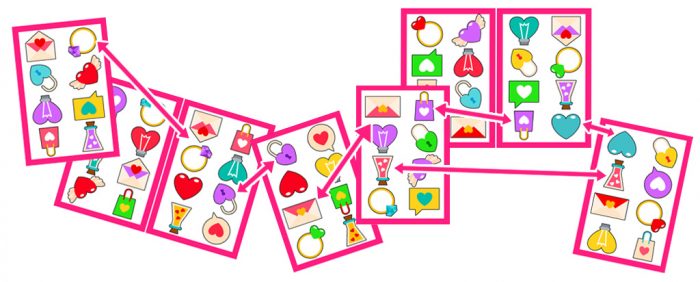 Valentine's day Cupcake
How to Play
There are cupcakes with several sprinkles on top that students count. Then, the tops with the differing number of sprinkles need to be matched to the base of the cupcake which has a numeral version of numbers written (e.g. a cupcake with five sprinkles matches with the base that says, "5," and so forth). The cupcake tops and bases range in number from one through twelve.
Another way to do this activity is to take one or two dice. Then, roll them and once a number is clear (the dice roll a seven) then you find the correct number of sprinkles and matching base, which you then put together. This adds an extra step to the process where students need to recognize the numbers on the dice as well in addition to counting the sprinkles and matching them with the proper base number.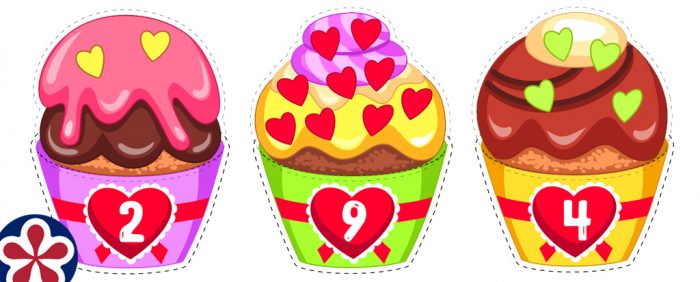 Clothespin Counting
2 sheets
There are eight cards total which are printed over two sheets. On the eight cards, there is an image in each card that has a specific number of items. Four different options are under each image and students can attach a clothespin to identify which numeral is the correct number. By laminating everything you can do this activity multiple times too!
Numbers Order Puzzle
4 sheets
Sweet little Valentine's Day number sequencing puzzle to add to your collection of math games and activities. In color (2 sheets) and black and white (2 sheets).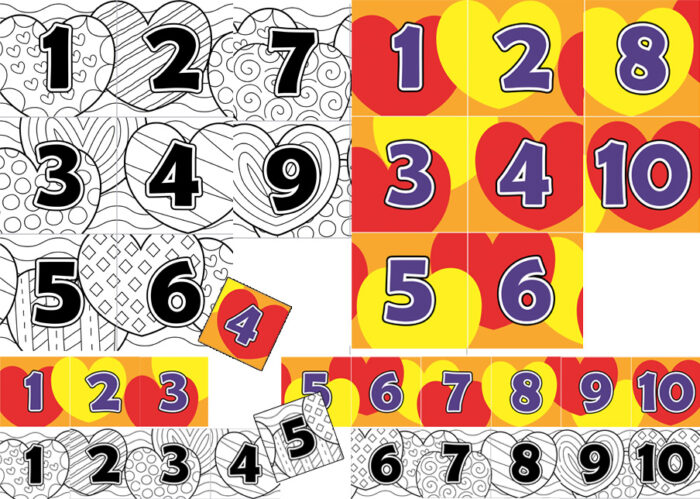 Valentine's day Worksheets
14 sheets
Valentines Day Tracing. Preschoolers will work on pre-writing skills and hand coordination as they trace the lines on these Valentines Day Tracing Pages.
Shape Valentines. Young learners will have fun working on shape recognition and color recognition.
Cut and paste Hearts and Cutting Practice.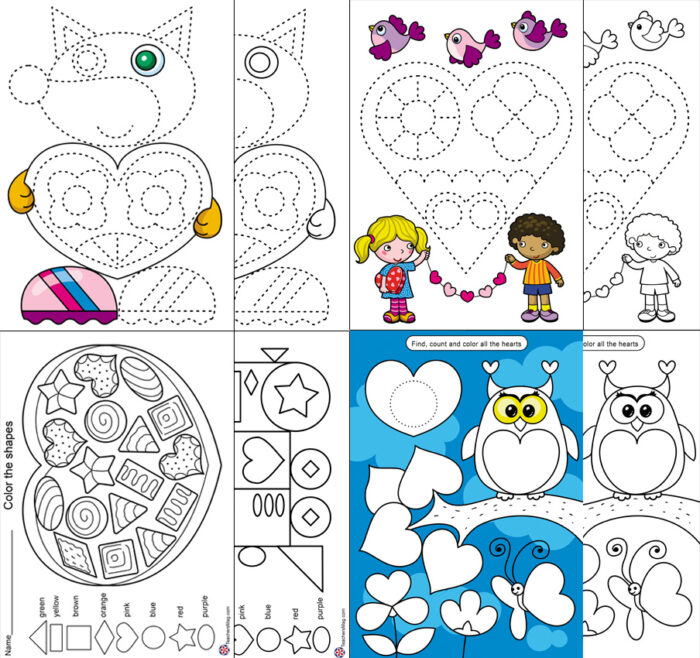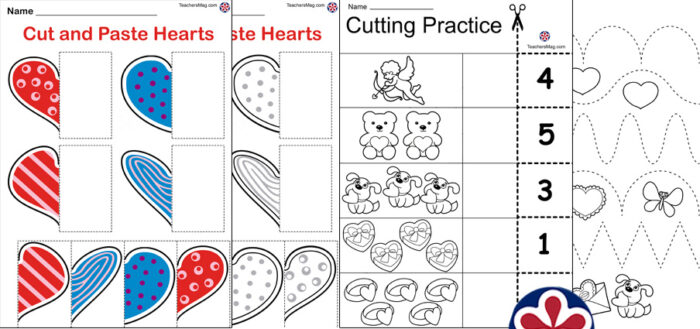 Shadow Matching Cards
4 sheets
This activity help develop visual discrimination skills and logic, pattern-recognition, observation, and problem solving skills!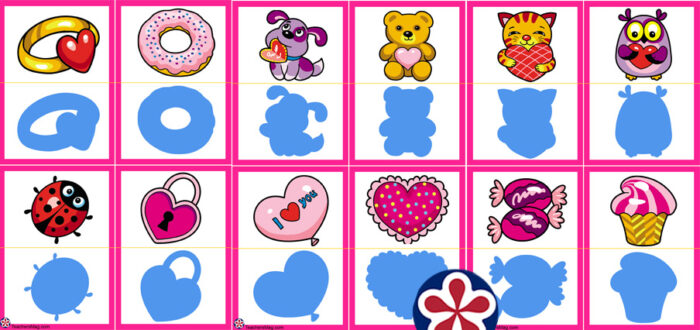 Valentine's Day Pattern Worksheets
8 sheets
Valentine's day patterns worksheets for preschool and kindergarten! In color and black and white.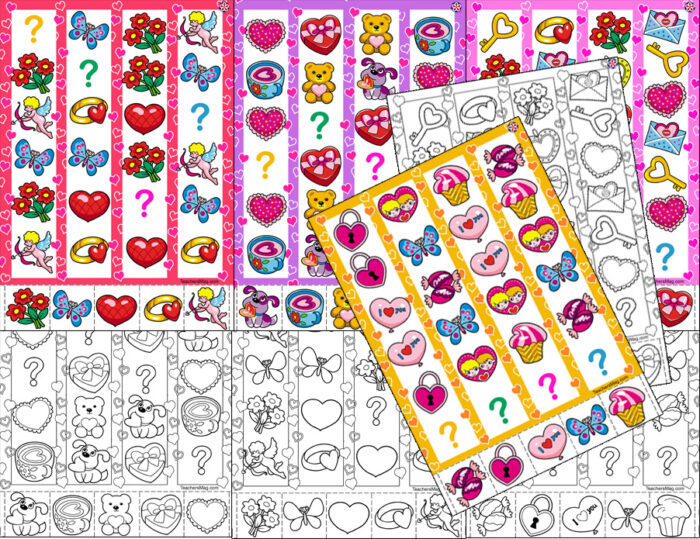 Valentine Hearts Letter Match Game
6 sheets
Valentine heart letter puzzles for preschool, pre-k, and kindergarten. Match uppercase and lowercase letters.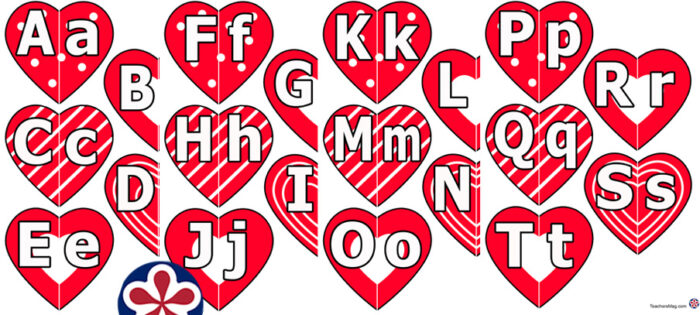 Related themes: 
💖 Valentine's Day-Themed Printables: Unleash Your Creative Love with Scientific Fascination! 💕💌
Welcome to the enchanting world of Valentine's Day with our delightful "Valentine's Day-Themed Printables." This downloadable PDF offers a treasure trove of engaging activities and worksheets designed to infuse the spirit of love, learning, and even fascinating science into your classroom or home.
💝 A Cornucopia of Valentine's Delights – What's Inside? 🎨🎲
Dive into the world of love and learning with our versatile PDF that includes a diverse range of activities sure to captivate hearts of all ages:
Clothespin Counting: Eight engaging cards, perfect for little fingers.
Heart Patterns: Two sheets filled with cut-and-paste hearts for creating lovely patterns.
Valentine's Day Cupcake Math: Four sheets that turn math into a sweet treat with counting and number matching.
Dice Rolling and Cover Game: Two sheets featuring numbers 2-12, adding an element of chance and excitement.
"Seek It" Game: Eight playing cards that make a perfect game for friends and family.
Valentine's Day Tracing: Enhance pre-writing skills and hand coordination with these adorable tracing pages.
Shape Valentines: Nurture shape and color recognition skills in young learners.
Shadow Matching Cards: Challenge observational skills with fun and educational shadow matching.
Valentine's Day Pattern Worksheets: Explore patterns in a loving and creative way.
Valentine Hearts Letter Match Game: Improve letter recognition with heartwarming gameplay.
❤️💡 Educational Benefits and Insights 📚🌱
🌟 Engagement: Make learning delightful with Valentine's-themed activities, captivating students' attention.
💝 Multidisciplinary Learning: Connect artistic creativity with numeracy and letter recognition.
🎲 Games and Fun: Infuse lessons with excitement through engaging games like dice rolling and card matching.
👩‍🏫 Teacher's Ally: Simplify lesson planning with ready-made, love-infused activities that cater to a variety of skill levels.
💘🧠 Love and Learning – A Beautiful Fusion with a Dash of Science 🌈📝
Valentine's Day-Themed Printables bring love into the world of learning, providing educators, parents, and students with engaging activities that inspire creativity, curiosity, and knowledge. Did you know that the human heart is a remarkable organ that beats about 100,000 times a day? Or that love releases feel-good chemicals in the brain? Download this PDF today to embark on a heartwarming journey through education, affection, and fascinating scientific tidbits. 💻📚
Celebrate love, laughter, and learning – the perfect blend for a memorable Valentine's Day filled with delightful surprises! 💕🎉