Description of the Math Lapbook for Preschoolers PDF
PDF 25 sheets
Math Lapbook Kit contains the following interactive parts:
Lapbook cover and backgrounds
Pockets
Math interactive activity "Which number comes between?" (one less, one more)
DIY Abacus
Numbers 1-10 Puzzles.
Large numeral printables (large printable numbers)
Cards math activity games
Blank Cards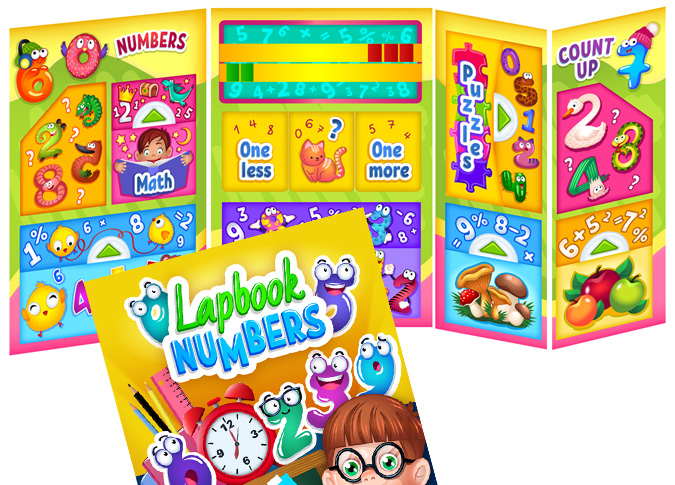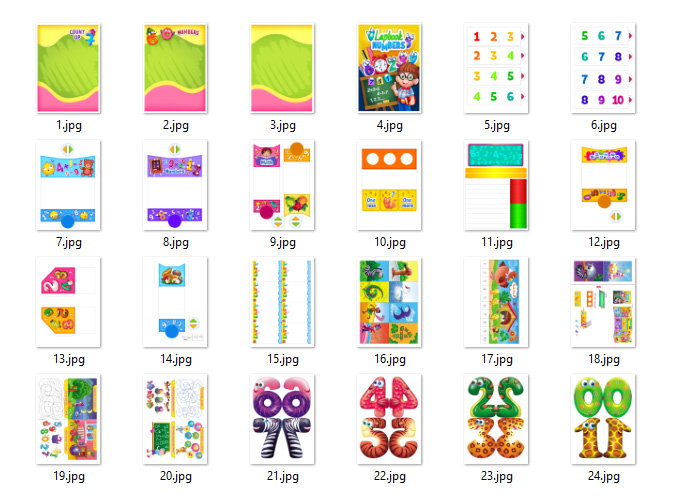 Tags: Math Lapbook (PreK – K), lapbook for preschoolers, lapbook homeschool, lapbook printables, premade lapbook
🎓 Unlocking Math Wonders: The Preschool Math Lapbook 📚
Are you ready to embark on a mathematical adventure with your preschooler? Dive into the world of numbers and shapes with our engaging Preschool Math Lapbook. This interactive PDF resource is a fun, hands-on way to introduce early math concepts to your little one. 🧮🌟
🧮 What's Inside?
Lapbook Cover and Backgrounds: Get your math explorer ready for an exciting journey into numbers and shapes. The eye-catching cover sets the stage for learning.

Pockets: Discover the magic of hidden treasures within pockets. Your child will love exploring these pockets and finding mathematical gems.

Math Interactive Activity – Which Number Comes Between?: Dive into the world of numbers with an engaging activity that explores the concept of what number comes between two others. It's a fantastic way to introduce numerical sequencing and critical thinking.

DIY Abacus: Create your very own abacus! This DIY project is not only educational but also a great craft activity. Your child will learn to count and perform simple calculations using this ancient counting tool.

Numbers 1-10 Puzzles: Unveil the mysteries of numbers through puzzles. These puzzles will enhance your child's number recognition and problem-solving skills while having a blast.

Large Numeral Printables: Engage your little one with large numeral printables. These printables make number recognition a breeze, helping your child become more familiar with the numerical world.

Math Activity Games: Turn math into an exciting adventure with interactive games that make learning enjoyable. Your child won't even realize they're mastering mathematical skills as they play these games.

Blank Cards: Customize your learning experience with blank cards. Use them for various activities, and let your child's creativity shine through.
👩‍🏫 For the Teachers: Dive into Math Fun! 🍎
Are you a teacher or educator looking for innovative ways to introduce math concepts to preschoolers? Our Preschool Math Lapbook offers a hands-on, visual approach that captivates young minds.
🔬 Scientific Wonders for Everyone: Math Marvels 🌐
Mathematics is a Universal Language: Did you know that mathematics is a universal language that transcends borders and cultures? It's the same in every corner of the world, connecting people through numerical expressions.

Young Brains Are Math Geniuses: Research shows that young children have a remarkable capacity for mathematical thinking. Early math experiences lay the foundation for later math success. The Preschool Math Lapbook helps stimulate this innate mathematical genius in your child.
🏆 Benefits for Education and Beyond: Unlock the Potential 🌠
Interactive Learning: The Preschool Math Lapbook offers hands-on, interactive learning that keeps children engaged and excited about math.

Solid Foundation: Early math skills are crucial for academic success. This lapbook sets the stage for a strong mathematical foundation.

Creativity and Critical Thinking: The combination of DIY activities, puzzles, and games encourages creativity and critical thinking in children.

Teacher's Ally: Teachers can utilize this resource to make math lessons more interactive and fun, enhancing the learning experience for their students.

Parent-Child Bonding: Work on the lapbook with your child and strengthen your bond while making learning an enjoyable adventure.
Unlock the wonders of math and provide your child with a head start in their educational journey. Download our Preschool Math Lapbook and watch as numbers and shapes come to life in a captivating, educational way. 🌈📊✨