Description of the Interactive Lapbook Template. Cats and Dogs PDF
Available immediately upon purchase 18 pages PDF + 4 page PDF (Stickers Cats and Dogs)
Lapbooks are everywhere and for good reason. They are very effective. They are short, sweet, and get to the point in colorful and fun ways. But how many times do you go looking for a certain subject and can't find what you're looking for? Here's a solution we think you'll LOVE.
Here's your chance to become the author. With an interactive lapbook template you get to create the story you envision for your students.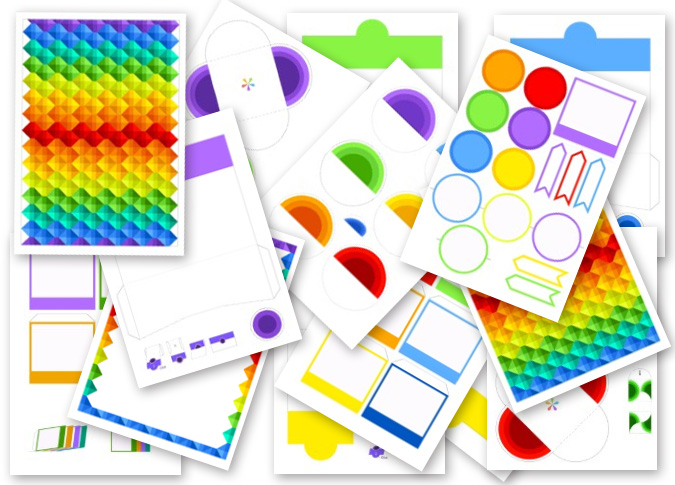 PDF Extras
4 pages of beautiful stickers all about cats and dogs to really give your lapbook some DAZZLE.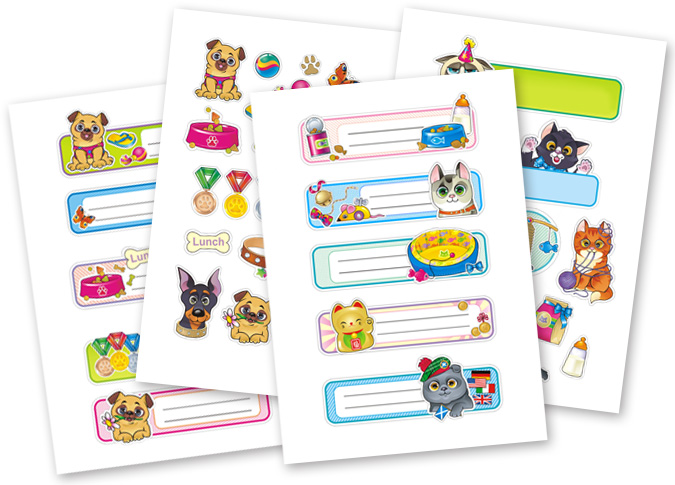 Cats and Dogs for Every Age
Yes. Whether for education or play, you can use these templates to create just the right type of story to meet your students needs.
And what's really great is that these can be used for any class and age group. Use cats and dogs to teach color to your kindergartners or make a book on veterinary care for pets to show your fifth graders. The possibilities are truly endless.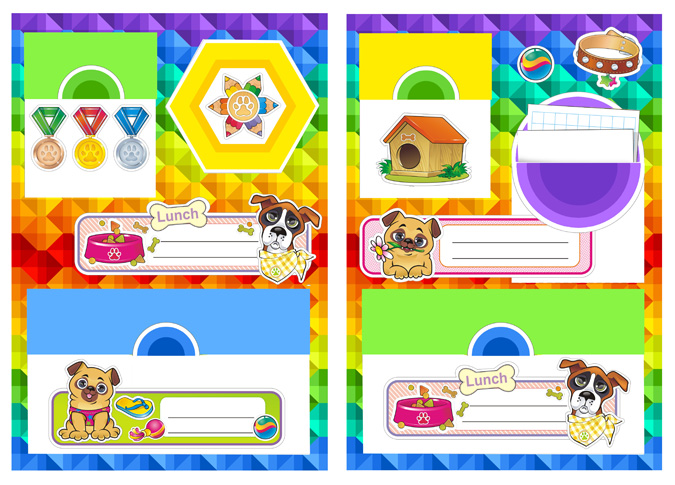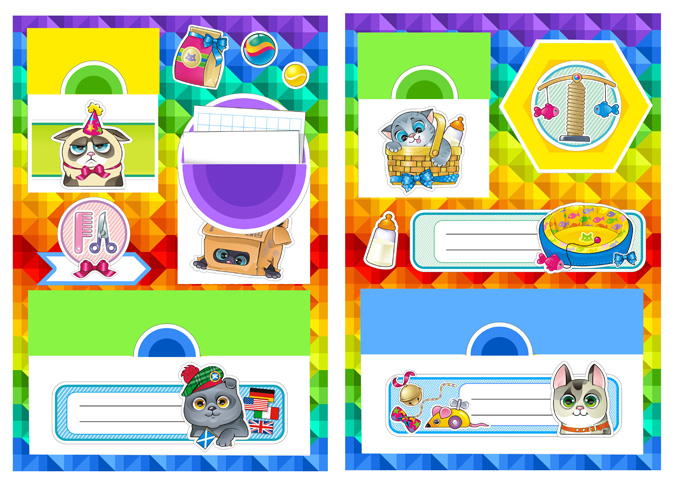 Oodles of Design Options
This kit comes with so many different page designs and add-ons that you'll be hard pressed to make two pages alike. The bright colors will amaze you and everything is color coordinated, so mix and match to your heart's content.
There are also cool 3D effect features like pockets to add to your pages. There are frames to use to give your subject matter that extra "pop" on the page.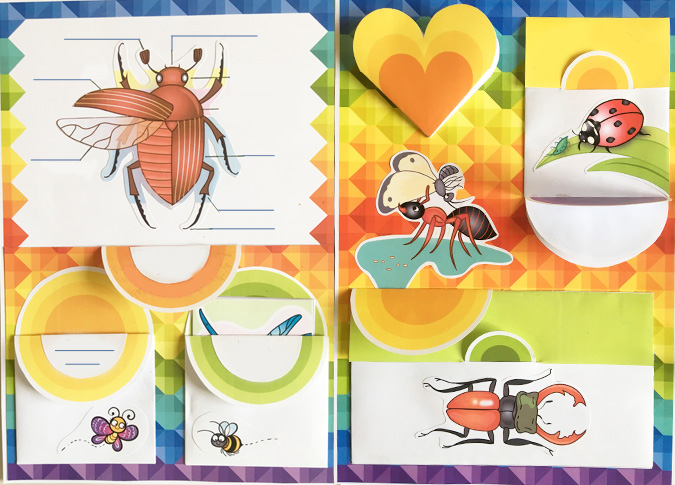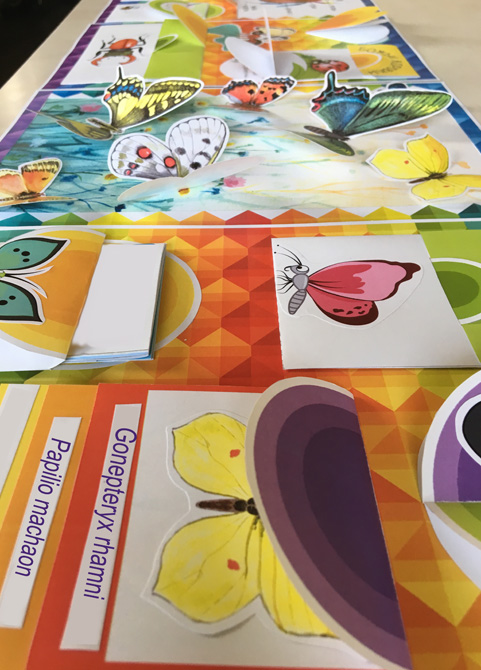 And That's not All
This kit and these templates are designed in such a versatile way as to give you all of the creative power you and your students crave. You can use other materials like glitter, sequins, colored glue, felt pens, and more to make them yourself or get your kids involved and let them make their own.
🐾 Interactive Lapbook Template: Cats and Dogs – A Purrfect Educational Adventure! 🐶
Dive into the enchanting world of feline and canine companions with our Interactive Lapbook Template. This downloadable PDF product is the ideal resource to engage young learners, teach essential concepts, and create a paws-itively enriching educational experience. Whether you're teaching colors to kindergartners or exploring veterinary care with fifth graders, these captivating stickers, activities, and insights are designed to inspire curiosity and nurture a love for our four-legged friends.
🎨 What's Included in the Interactive Lapbook Template? 📖
4 Pages of Beautiful Stickers: These meticulously crafted stickers celebrate the charm of cats and dogs, bringing their endearing qualities to life.

Educational Versatility: Use these stickers to teach colors to kindergartners, or dive deeper and create a book on veterinary care for pets, captivating the interest of fifth graders. The possibilities are as boundless as a dog's energy.
🌟 Engaging Activities and Insights Await! 📚
Our Interactive Lapbook Template is more than a resource; it's an educational journey that promises fun, engagement, and enlightenment. Here's what you can expect:
Stimulating Learning: These stickers and activities engage multiple senses, making learning an interactive and memorable experience.

Inspiring Exploration: Create an environment where students can explore the captivating world of pets, nurturing a sense of empathy and responsibility.

Hands-On Education: Our lapbook encourages hands-on learning, fostering fine motor skills and reinforcing knowledge retention.

Creativity Unleashed: Let your students' creativity shine as they design their own lapbooks, fostering their sense of expression and innovation.
🐱 Two Intriguing Scientific Facts About Cats and Dogs 🐶
Dogs Have an Incredible Sense of Smell: A dog's sense of smell is 10,000 to 100,000 times more acute than that of humans. This remarkable olfactory ability makes them indispensable in search and rescue operations.

Cats Purr for Various Reasons: While purring is often associated with contentment, cats may also purr when in pain, anxious, or during childbirth. Scientists believe it has healing properties for cats.
📚 Educational Benefits for Teachers and Students! 🍎
Our Interactive Lapbook Template offers a multitude of educational advantages:
Cross-Disciplinary Learning: Use it to teach a range of subjects, from colors to animal care, and even storytelling.

Hands-On Education: The interactive nature of the lapbook enhances student engagement and learning retention.

Fosters Compassion: Exploring the world of cats and dogs fosters empathy and compassion, nurturing a love for animals and promoting responsible pet ownership.

Creativity and Expression: Students have the opportunity to create their own lapbooks, fostering creativity and self-expression.
🐾 Unleash the power of education with our Interactive Lapbook Template: Cats and Dogs
Download it today to embark on an educational journey filled with colorful stickers and a deeper appreciation for our furry companions. Let's make learning a tail-wagging, whisker-twitching adventure! 🐾📚