Description
This fun, interactive summer lapbook is perfect to learn about one of the most wonderful times of the year. From common outdoor activities to plants and animals, there are a ton of activities to keep children interested.
There are a total of 27 sheets to print off and use at home or classroom. This lapbook is perfect for preschool and kindergarten students learning the basics about the summer months. Knowing exactly what to expect out of all four seasons each year is a great bit of knowledge to understand an early age.
With each summer lapbook, features include:
A fully printable lapbook consisting of six pockets, a cover, and background
Common summer trees
A description of the summer months, with notebooks
Solo and multiplayer games
"What the artist mixed up" pictures
Summer safety cards for children
Labyrinths (mazes)
Two puzzles with the "find in the picture" theme
Summer pictures of weather, animals, work and more
Ecology cards
Allow the child to put together the lapbook by themselves if possible. If they do you need any assistance, feel free to step in and show them the way. The instructions are fairly easy to follow, but some of the trickier parts, like the pockets, might trip them up.
During the summer, many children don't get the proper amount of education they need to keep their growing mind sharp. Schools are usually not in session, and family vacations are prevalent. This lapbook is perfect to make sure that a child is always learning. It's something they can explore completely on their own, or with a little bit of assistance.
Truly, this is one of the top teaching resources right now for the hot summer months. It makes the perfect indoor activity when the weather is poor.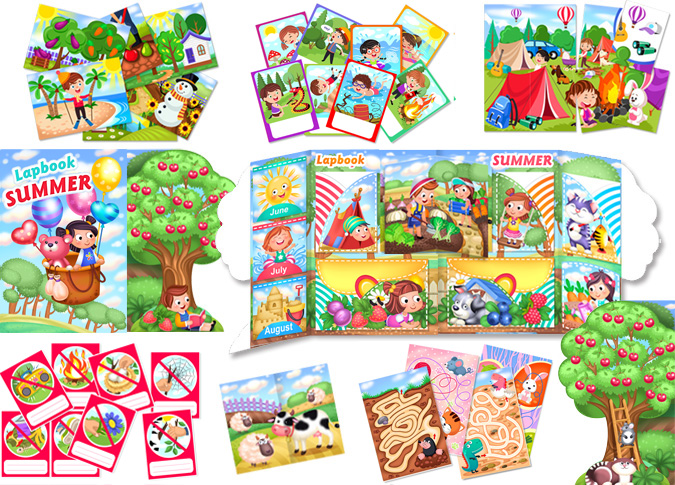 PDF (Acrobat) Document File
Be sure that you have an application to open this file type before
downloading and/or purchasing.
TERMS OF USE
This item is a paid product created by BuyLapbook.com,
Inc. Copying any part of this product, redistributing, selling or
placing it on the internet in any form is strictly forbidden and is a
violation of the Digital Millennium Copyright Act (DMCA). Thank you for
respecting our work!