Description of the Fun Printable Halloween Crafts and Activities PDF
Printable Halloween-Themed Crafts for Kids
Halloween Toilet Paper Roll Monster Craft
Halloween Worksheets
Halloween-Themed Counting Clip Cards
Printable Halloween Matching Game
Halloween Puzzles
Pumpkin Matching Puzzles
Printable Halloween-Themed Crafts for Kids
4 sheets
Magic Cones and Hang-up Skeleton Craft.


Halloween Toilet Paper Roll Monster Craft
3 sheets
This fun craft involves taking a toilet paper roll and then gluing-on these printables to make a fun Halloween-themed piece of decor!
You can do this craft without a toilet paper roll if you lack one too! You just need to roll the base into a circle that you glue or staple together and it will simply just be a little less sturdy, but it will still look great!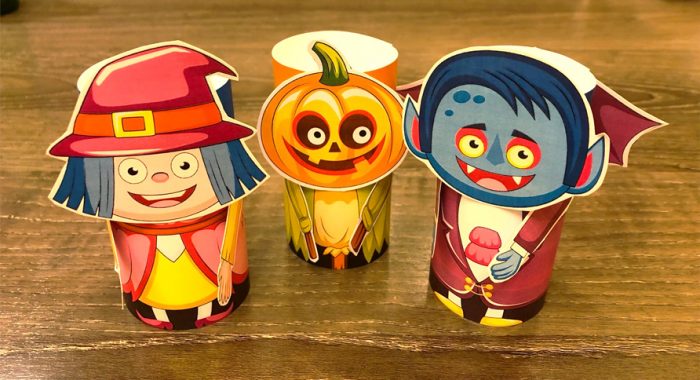 Halloween Worksheets
8 sheets
These worksheets are great fun to do during the Halloween season! They are full of witches, ghosts, and other things that perfectly fit the spooky theme!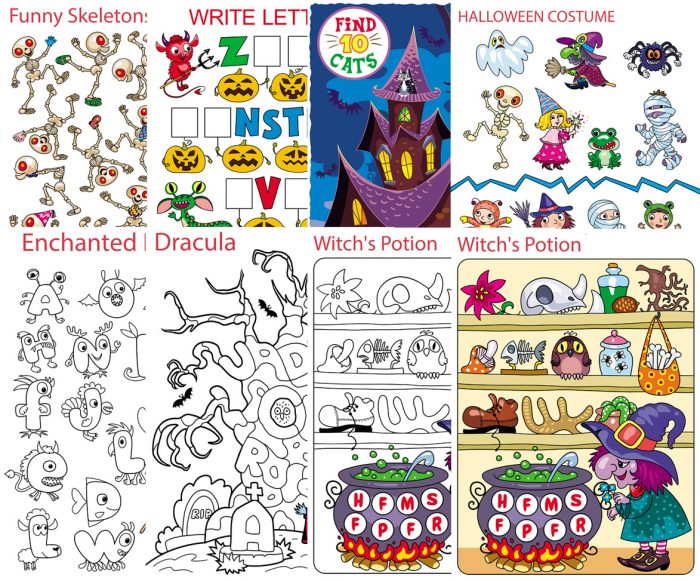 Halloween-Themed Counting Clip Cards
3 sheets
These Halloween-themed counting clip cards are a great way to help your preschooler or pre-k student learn to count-up and identify numbers while also improving their fine motor skills! These make for some great spooky fun!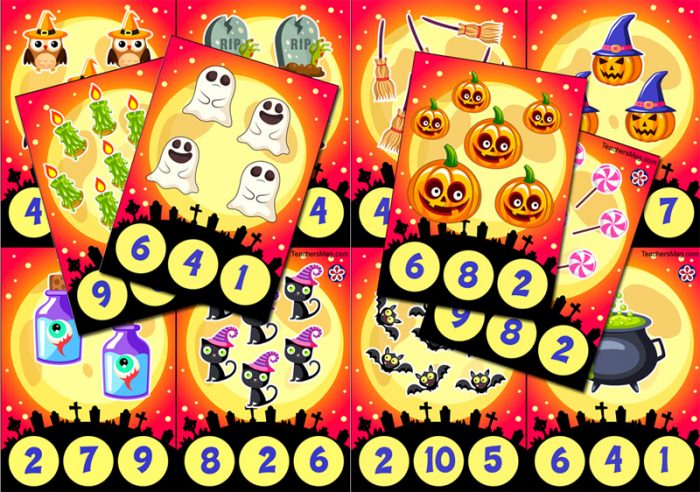 Printable Halloween Matching Game
6 sheets
Help the Witch find the right Sack. This fun Halloween-themed matching game involves a witch with different sacks of ingredients! This game is educational as it has children count-up the items in each sack so as to match them to the witch's requested recipe on each on the printables. It is colorful, cute, and funny, which keeps kids engaged too!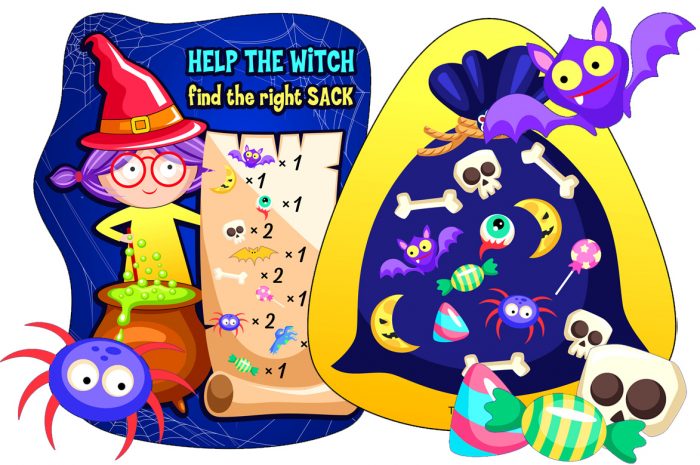 Halloween Puzzles
4 sheets
These Halloween-themed puzzles are great to do during the Fall months before Halloween. They are fun and educational!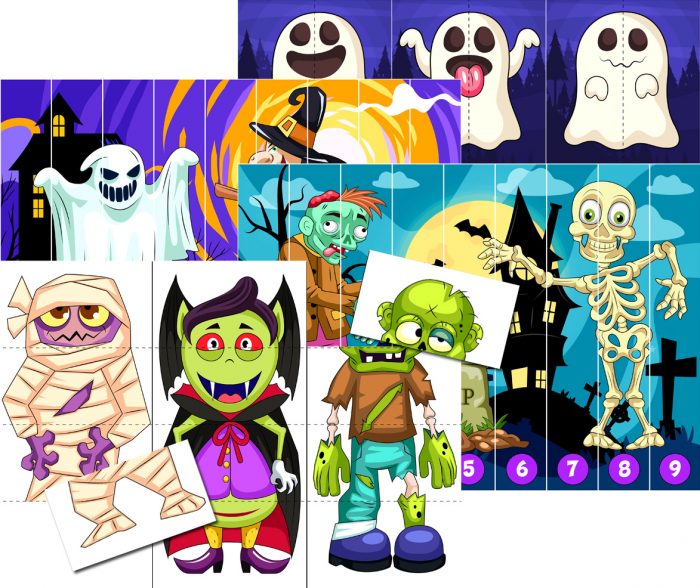 Pumpkin Matching Puzzles
4 sheets
We've got all sorts of fun Jack o' Lantern faces that are ready to be matched!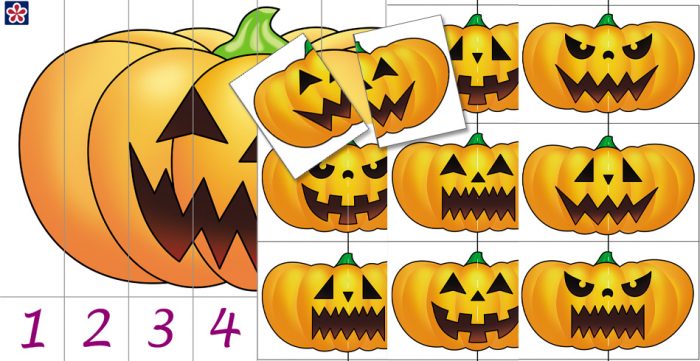 Total 32 sheets
🎃👻 Unleash Spooktacular Creativity with Our Fun Printable Halloween Crafts and Activities! 🕷️🦇
Prepare for a bewitching adventure with our "Fun Printable Halloween Crafts and Activities." Whether you're a spirited preschool teacher or a parent eager to infuse a dose of Halloween magic into your child's learning, you've unearthed a treasure trove of spooky-fun resources that will have little goblins and ghouls shrieking with delight.
Why Choose Our Halloween Crafts and Activities? 🍂🕯️
👻 Printable Halloween-Themed Crafts: Dive into the world of spooky creativity with our Halloween-themed crafts, where kids can conjure their own haunted houses, eerie monsters, and ghostly pumpkins.
🧟 Toilet Paper Roll Monster Craft: Get ready to upcycle and transform toilet paper rolls into quirky and cute Halloween monsters. It's a crafty and eco-friendly way to celebrate the season.
🎃 Halloween Worksheets: These aren't your typical worksheets! Our Halloween-themed educational materials combine learning and fun, offering captivating exercises that teach while they entertain.
🧙‍♀️ Halloween-Themed Counting Clip Cards: Counting becomes a spine-tingling adventure with Halloween counting clip cards, perfect for young learners to hone their math skills while enjoying the season.
🧩 Halloween Puzzles: Our Halloween puzzles are a mysterious mix of brain-teasers, mazes, and riddles that will challenge and entertain, making learning a bewitching journey.
🎃 Pumpkin Matching Puzzles: Discover the fun of pumpkin matching puzzles, where kids can pair pumpkin-related items in a delightful and educational game.
🦇 Educational Insights: Our resources are designed to make Halloween-themed learning captivating, encouraging creativity, and fostering a deeper understanding of this spooktacular season.
🎃 Eerie Fun Facts and Mysteries:
🍁 Haunted Jack-O'-Lanterns: The tradition of carving pumpkins into Jack-O'-Lanterns began with an Irish myth about a man named Stingy Jack who tricked the Devil. The practice of carving spooky faces in pumpkins started as a way to ward off evil spirits.
🌙 Halloween's Origin: Halloween has ancient roots, believed to have been inspired by the Celtic festival of Samhain, where people lit bonfires and wore costumes to ward off ghosts. It later evolved into the holiday we know today.
🕸️ Educational Enchantment: Our resources aren't just about crafting and activities; they're a ticket to a world of spooky fun, creative learning, and Halloween magic. 🎃👹🌟