Description
Our Fall-themed lapbook printables offer a variety of materials to use in creating a unique and versatile lapbook containing vivid, colorful and detailed cutouts in the form of seasonal clothing items, weather, animals, trees and other miscellaneous decorative flashcards. Printable from home, the buying process is quick and easy, offering immediate delivery in the form of a PDF document.
Included in the printables purchase: Cover, instructions, glueable pockets, and flashcards in categories "Signs of Autumn", "Autumn Puzzles", "Clothes", "Tree Seasons", "Autumn Coloring", and "Record Flashcards".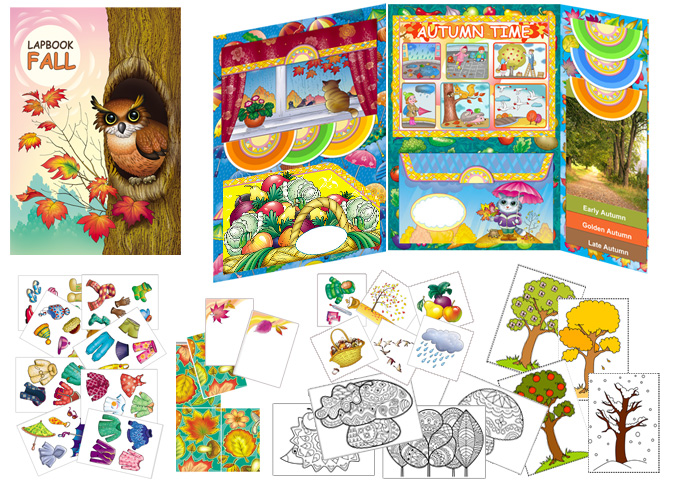 Printables are delivered over 20 standard A4 size paper.
Lapbooks can offer new and exciting ways for homeschooled children to learn about subjects that are easy, fun, hands-on and contain a DIY-spirit that is priceless for any young one learning about the world. While a normal book has a traditionally one-way experience where either the child or an adult reads the book as it was written and intended by the author, lapbooks call the learner to be a doer, allowing them the freedom to gather materials and information and arrange them manually in any fancy or functional design they so desire. The outcome is a beautiful presentation of a child's acquired knowledge of a subject, aided by the work they put into creating their display of knowledge in the form of a detailed and colorful lapbook.
By way of themed printables of various pictures, drawings and pieces of information, organizing them and gluing them along with any other handmade notes, flaps, or cutouts from other materials, the lapbook is assembled and displayed using a simple standard-sized legal folder, or even a few, if a complex multi-panel style display is intended (a great way to show off your extensive knowledge acquired during research!). The end result is something resembling a miniature science-fair fold-out board, packed with all kinds of interactive and modular ways to experience the information gathered by the lapbook's creator.
Tip: feel free to use other creative materials such as colored-pencils and glitter to add the most style and pizzazz to your creation!
PDF (Acrobat) Document File
Be sure that you have an application to open this file type before
downloading and/or purchasing.
TERMS OF USE
This item is a paid product created by BuyLapbook.com,
Inc. Copying any part of this product, redistributing, selling or
placing it on the internet in any form is strictly forbidden and is a
violation of the Digital Millennium Copyright Act (DMCA). Thank you for
respecting our work!