Description of the Water Cycle. Interactive Science Lapbook PDF
This 21-page lapbook PDF is the perfect learning tool for any parents or teachers looking to teach children about the importance of water. Students can interactively learn about the different types of water, the various states of water and other basic knowledge that can be used in everyday life.
The best part?
The lapbook has easy-to-follow instructions that allows the child to put it together themselves. It is a fun, unique way to learn about water and enjoy everything that lapbooks have to offer. The templates just need printed off to get started.

Water is one of the most important topics to cover early on in a child's life. It is one of the most important chemical substances on the planet, and essential for living. While water is needed for humans to live, it can also be deadly if a person is submerged in it, breathing the water into their lungs.
Understanding the importance of water, as well as the dangers surrounding it, is essential to help children navigate life on their own. This lapbook is a perfect way to make learning fun, easy and exciting. It continues to be one of our most popular science lapbooks. It's an easy lesson for preschool and kindergarten ages that usually does not take very long for a child to master.
Included in every order:
Lapbook

cover
Full Instructions
A fully-colored background titled "Water Cycle in Nature"
Multiple Pockets
Printable Flash Cards
Flashcards
The flashcards are great learning tools that can be used over and over until a child fully understands the topic. They are fun flashcards, filled with bold pictures and text that makes for easy education.
Flashcards include learning topics such as:
Water in nature
What do humans rely on water for?
The different states of water: solid, liquid and gas
Understanding the properties of water: tasteless, odorless, shapeless and colorless
Interactive water experiments
Puzzles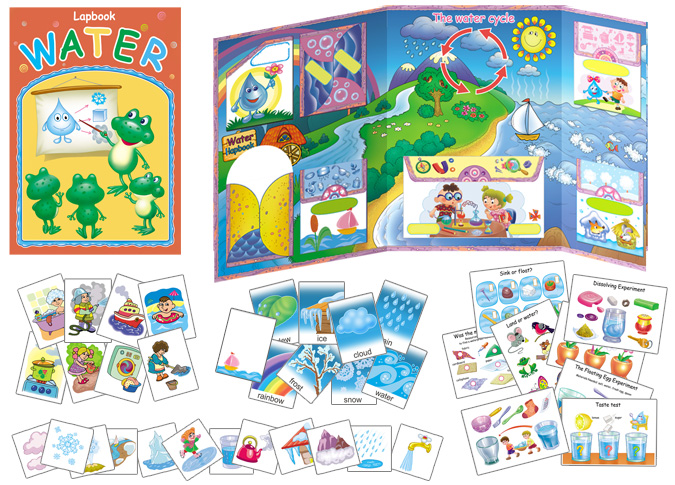 PDF (Acrobat) Document File
Be sure that you have an application to open this file type before
downloading and/or purchasing.
TERMS OF USE
This item is a paid product created by BuyLapbook.com,
Inc. Copying any part of this product, redistributing, selling or
placing it on the internet in any form is strictly forbidden and is a
violation of the Digital Millennium Copyright Act (DMCA). Thank you for
respecting our work!
🌧️ Explore the Water Cycle: Interactive Science Lapbook 🌊
Delve into the fascinating world of the water cycle with our "Interactive Science Lapbook." This comprehensive PDF package allows you to print and assemble an engaging lapbook that will make learning about the water cycle a hands-on and interactive adventure. It's not just a science lesson; it's an exploration of the water's journey through the Earth's systems.
🌍 What's Included:
📖 Lapbook Cover: Begin your scientific journey with an enticing cover that sets the stage.
📝 Full Instructions: Clear and concise guidance on how to assemble and use the lapbook.
🌿 Water Cycle in Nature: A fully-colored background that serves as the canvas for your interactive learning.
📂 Multiple Pockets: Create pockets within your lapbook to store valuable information.
📚 Printable Flash Cards: Informative flashcards that expand your understanding of the water cycle.
💧 Water in Nature: Explore the role of water in various natural processes.
🚰 What Do Humans Rely on Water For?: Understand the indispensable value of water in our lives.
🌬️ Different States of Water: Explore the three states of water: solid, liquid, and gas.
🎨 Understanding the Properties of Water: Dive into the remarkable properties of water – tasteless, odorless, shapeless, and colorless.
⚗️ Interactive Water Experiments: Engage in hands-on experiments that elucidate the behavior of water.
🧩 Puzzles: Challenge your problem-solving skills with water cycle-themed puzzles.
💡 Science Behind the Scenes:
Our "Interactive Science Lapbook" isn't just an educational resource; it's a dynamic learning tool that fosters inquisitiveness and a deeper understanding of scientific concepts.
👩‍🏫 For Teachers:
🌧️ Dynamic Learning: The lapbook format makes complex scientific concepts more accessible, engaging, and memorable for students.
🌊 Comprehensive Content: Cover the entire water cycle, including its significance in ecosystems and its global impact.
💧 Hands-On Exploration: Encourage interactive learning with experiments, promoting a deeper connection to the subject matter.
📜 Scientific Wonders:
💨 Water's Triple Point: At precisely 0.01 degrees Celsius and 611.657 pascals of pressure, water can simultaneously exist as a solid, liquid, and gas.
🌍 Water Reservoirs: Oceans contain about 97% of the Earth's water, while the remaining 3% is fresh water found in glaciers, underground aquifers, and surface water bodies.
Educational Advantages:
The "Interactive Science Lapbook" offers numerous educational benefits, making it an invaluable resource for both teachers and students.
🧠 Enhanced Understanding: Complex scientific concepts are simplified, making them more comprehensible for students.
🔍 Active Engagement: The interactive nature of the lapbook promotes hands-on exploration and deepens students' understanding of the water cycle.
🌿 Environmental Awareness: Gain insights into the importance of conserving and respecting our planet's water resources.
Teacher Insights:
🥤 Global Water Challenge: Access to clean, safe drinking water is a global challenge; teaching students about the water cycle raises awareness about the importance of water conservation.
🔬 Molecule Magic: The structure of water molecules (H2O) gives water its unique properties and behaviors, crucial for life on Earth.
Dive into the Water Cycle:
Download the "Interactive Science Lapbook" PDF now to unlock a world of scientific exploration. From understanding the properties of water to witnessing its journey through nature, this lapbook promises to make the water cycle a memorable and interactive learning experience. 🌊🔍🌏