Description of the Easter Games and Activities For Preschoolers PDF
1 PDF/ 18 sheets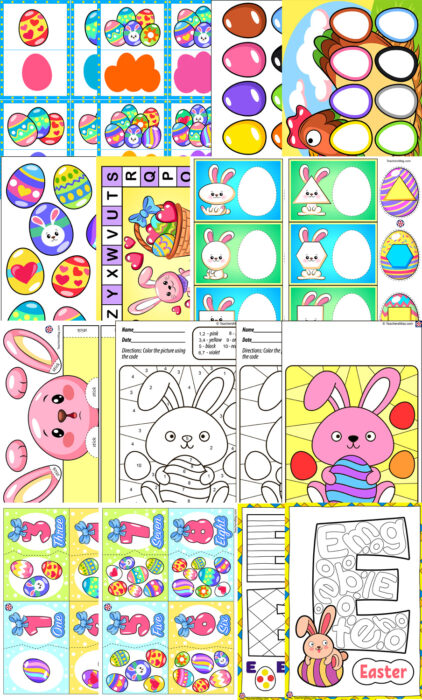 Easter Word Board Game "Alphabet" – 1 sheet
Bunny headband – 1 sheet. You can print out, glue together, and wear on your head for extra fun!

Easter Egg Color Matching Activity – 2 sheets. This Easter egg color matching activity is a fun addition to the Easter or Spring theme. A fun way to work on color recognition!

Easter Egg and Bunny Shape Matching Activity – 2 sheets. This matching activity is designed with that in mind, encouraging preschoolers to take Easter eggs with shapes inside of them and matching them to bunnies with their heads shaped in a similar manner.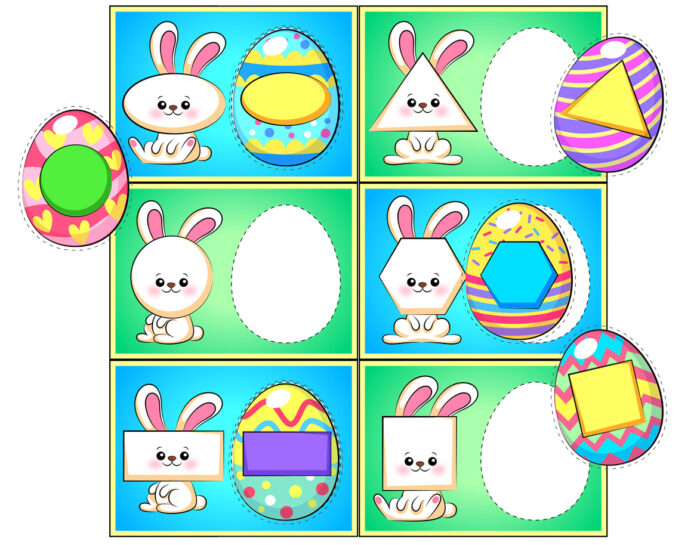 Easter Egg Math Matching Activity – 3 sheets. This Easter egg math matching activity works very well for young children learning about math and how objects can correspond to numbers.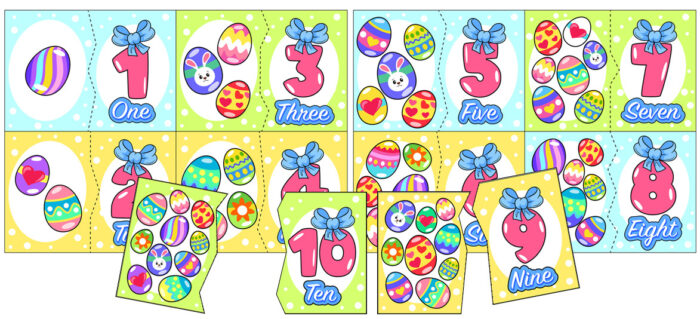 Easter Eggs Shadow Matching Cards – 2 sheets
Easter Egg Memory Game – 1 sheet. This lovely and fun Easter Egg Memory Game is great for entertaining children in the run-up to Easter. Simply download and print 2 copies, cut out the beautifully colored eggs and place them face down on a table. Children must turn them over one by one and find the matching pairs of eggs!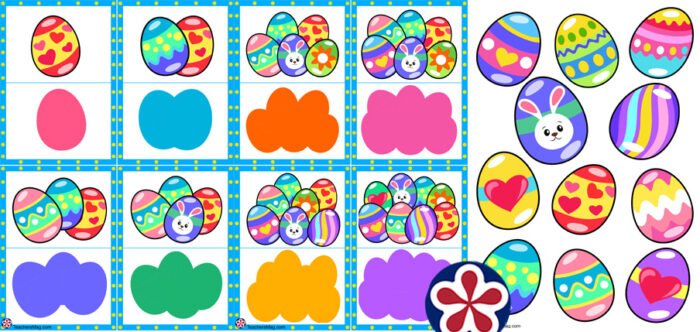 Easter Color by Number (1-10) – 3 sheets. In this activity, children identify numerals from 1-10 to color the Easter themed picture. + Сolor sample and Blank template coloring page to fill.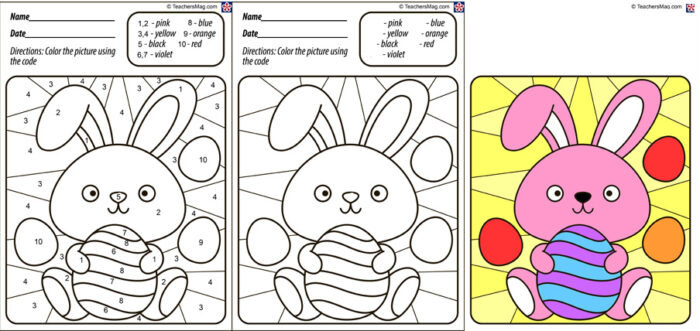 Dictionary definition of Easter
Easter: an annual Christian festival in commemoration of the resurrection of Jesus Christ, observed on the first Sunday after the first full moon after the vernal equinox, as calculated according to tables based in Western churches on the Gregorian calendar and in Orthodox churches on the Julian calendar – Dictionary.com
Easter is a time of joy and learning, and our "Easter Games and Activities for Preschoolers PDF" is the perfect resource to make this holiday both educational and entertaining. This downloadable PDF is designed for preschool children and teachers, offering a delightful assortment of activities that foster creativity and critical thinking.
Key Features:
Easter Word Board Game "Alphabet": Kickstart the Easter celebration with an engaging word board game. Children can explore the alphabet, learn new words, and boost their vocabulary, all while having fun searching for Easter-themed terms.
Easter Egg and Bunny Shape Matching Activity: This hands-on activity encourages preschoolers to develop their cognitive and problem-solving skills by matching various Easter egg and bunny shapes. It's a playful way to enhance shape recognition and memory.
Easter Egg Math Matching Activity: Make math exciting with an Easter twist! Children can practice basic math concepts through this interactive matching game. It's a fantastic opportunity for preschoolers to refine their counting and number skills.
Easter Eggs Shadow Matching Cards: Foster visual discrimination and memory with shadow matching cards featuring Easter eggs. Children will enjoy the challenge of finding the right pairs while improving concentration and observation skills.
Easter Color by Number (1-10): Enhance fine motor skills and number recognition as preschoolers color Easter-themed illustrations by following the color codes. It's a creative and educational activity that brings vibrant Easter images to life.
Printable and Customizable: The PDF can be effortlessly downloaded and printed, enabling teachers and parents to select and tailor specific activities based on their educational objectives. Create a personalized curriculum that aligns with the needs of your preschoolers.
Teacher's Best Friend: Educators will find this resource to be an invaluable tool for lesson planning and classroom activities, making Easter both fun and educational in the preschool setting.
Fosters Creativity and Skill Development: Through these interactive games and activities, children can celebrate Easter while honing their creativity and essential cognitive skills.
"Easter Games and Activities for Preschoolers PDF" is an indispensable resource for teachers and parents who want to make Easter an enriching and enjoyable experience for young children. Download and print this resource to create a vibrant and engaging learning environment where preschoolers can celebrate Easter while developing important skills and knowledge.