Description of the Bat Lapbook PDF
This is a colorful interactive lapbook, perfect for preschool and kindergarten aged children who have an interest in bats. Any child who is a huge fan of Halloween will enjoy the theme of this lapbook from beginning to end.
The downloadable file is an 11 page PDF. This file contains all the necessary templates to construct the lapbook in its entirety. It is so easy that students can do it on their own without any guidance.
All the pockets can be glued to a colored cardboard folder. If a folder is not readily available, another option is to print additional background pages from the set and add pockets to them.
All About Bats
What's included in kit:
Full Instructions
Colorful cover
The anatomy of a bat (the bat comes with raised wings, giving a 3D effect)
A full bat chart
Bird and bats: similarities and differences
Understanding how bats use echolocation.
The life cycle of bats (color pictures included)
Pocket of vocabulary words (add-ons available)
Three swing modules for recording facts about bats
An area on the back for students to write an essay on bats
A place to sign the laptop for students to call their own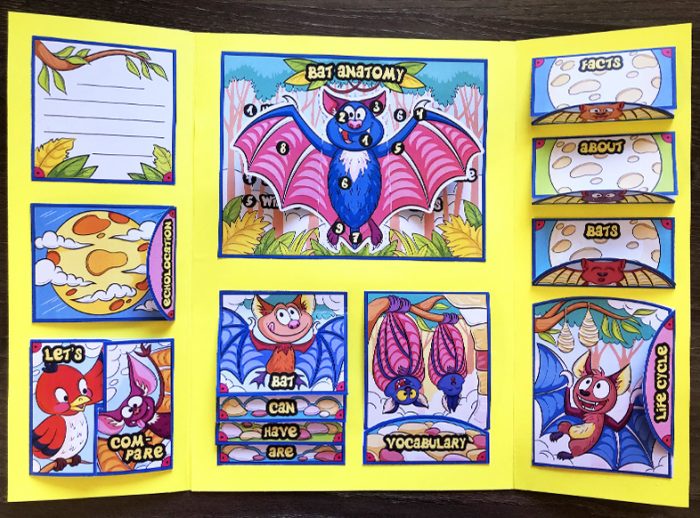 This activity will not only help children learn more about the life of bats, but also spark interest in other animals as well. It is a great laptop to learn about one of the most interesting animals around. They are spooky and mysterious, but also extremely unique.
Certain lapbooks make a lot of sense to use during certain parts of the year. Make this next Halloween a little more enjoyable with a fun way to learn about the one animal associated with the holiday.
🦇 Explore the Fascinating World of Bats with Our Bat Lapbook! 🦇
📚 An Engaging and Interactive Learning Resource for Students! 🦉🧠
Welcome to the captivating universe of our "Bat Lapbook" – a dynamic and educational PDF product, tailor-made for downloading and printing. This enthralling lapbook is a versatile tool designed to delve into the mysteries of bats and their unique characteristics. With colorful visuals and interactive elements, students will embark on an exciting journey of discovery.
🦇📖 What's Inside the Bat Lapbook: 📚🦉
📔 Full Instructions: Our lapbook includes comprehensive instructions, ensuring a smooth and hassle-free experience for both students and teachers.
🖼️ Colorful Cover: The lapbook begins with an eye-catching cover that sets the tone for the adventure within.
🦇 Anatomy of a Bat: Dive into the anatomy of bats, complete with raised wings that create a stunning 3D effect.
📊 Full Bat Chart: Learn about the classification and unique features of various bat species.
🦜 Birds and Bats: Similarities and Differences: Explore the intriguing connections and distinctions between these winged creatures.
🦇 Echolocation: Understand the incredible skill of echolocation that bats use for navigation and hunting.
🌿 Life Cycle of Bats: Colorful pictures depict the stages of a bat's life, from birth to maturity.
📚 Vocabulary Words Pocket: Optional vocabulary words add-ons are available for expanding language skills.
📋 Swing Modules: Three swing modules encourage students to record essential facts about bats in an interactive format.
📝 Essay Writing: An area at the back of the lapbook allows students to compose essays on bats, fostering their writing skills.
📚 Ownership Area: A space to personalize and sign the lapbook, making it a special, educational keepsake.
🦉📜 Uncover Intriguing Bat Facts: 🌓🌌
Winged Pioneers: Bats are the only mammals naturally capable of sustained flight. Their wing structure is similar to the human hand, with elongated fingers connected by a thin membrane.

Ecological Heroes: Bats play a vital role in pollination and pest control. They help to pollinate various plants, including agave, which is used to produce tequila.
🌱🦋 Enhancing the Learning Experience: 📚🎓
Our "Bat Lapbook" offers an array of educational benefits:
🌠 Hands-On Learning: The interactive elements engage students and enhance retention.
📈 Comprehensive Understanding: The lapbook covers diverse aspects of bat biology and behavior, offering a well-rounded perspective.
📝 Writing Skills: The essay-writing section promotes the development of writing abilities.
🧠 Critical Thinking: Students develop analytical and research skills as they explore the world of bats.
🦇🌟 Start Your Bat Adventure Today! 🎒📦
Download and print our "Bat Lapbook" to create a dynamic and engaging learning experience. Explore the remarkable world of bats, foster curiosity and critical thinking, and make learning an exciting journey. Uncover the mysteries of these remarkable creatures with the Bat Lapbook!
🦉📚🦇 Discover the World of Bats – One Interactive Lapbook at a Time! 📓🌙