Description
This is a colorful interactive lapbook, perfect for preschool and kindergarten aged children who have an interest in bats. Any child who is a huge fan of Halloween will enjoy the theme of this lapbook from beginning to end.
The downloadable file is an 11 page PDF. This file contains all the necessary templates to construct the lapbook in its entirety. It is so easy that students can do it on their own without any guidance.
All the pockets can be glued to a colored cardboard folder. If a folder is not readily available, another option is to print additional background pages from the set and add pockets to them.
All About Bats
What's included in kit:
Full Instructions
Colorful cover
The anatomy of a bat (the bat comes with raised wings, giving a 3D effect)
A full bat chart
Bird and bats: similarities and differences
Understanding how bats use echolocation.
The life cycle of bats (color pictures included)
Pocket of vocabulary words (add-ons available)
Three swing modules for recording facts about bats
An area on the back for students to write an essay on bats
A place to sign the laptop for students to call their own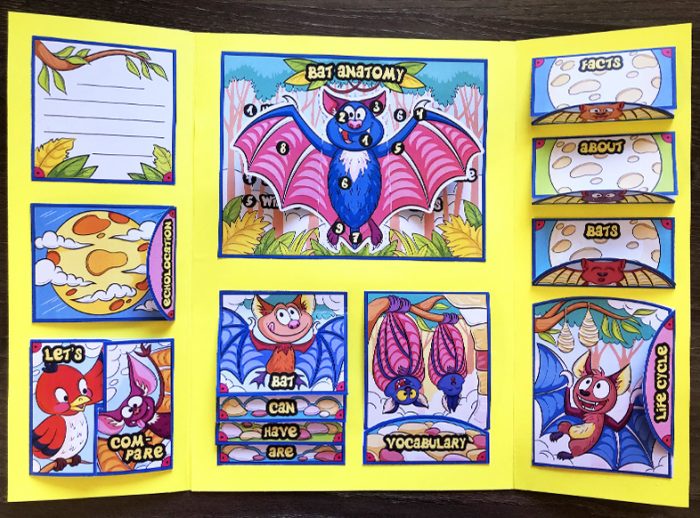 This activity will not only help children learn more about the life of bats, but also spark interest in other animals as well. It is a great laptop to learn about one of the most interesting animals around. They are spooky and mysterious, but also extremely unique.
Certain lapbooks make a lot of sense to use during certain parts of the year. Make this next Halloween a little more enjoyable with a fun way to learn about the one animal associated with the holiday.