Description of the Numbers 1 – 10 Worksheets PDF
2PDF  files / 30 sheets + 22 sheets
Worksheets Focused on Learning Numbers
Each worksheet has four tasks for children to complete:
Сount the needed number of items and color the listed quantity corresponding to the given number.
Write the missing number.
Write the number by following the examples.
Count the items in each box and circle the one with the needed number of items in it.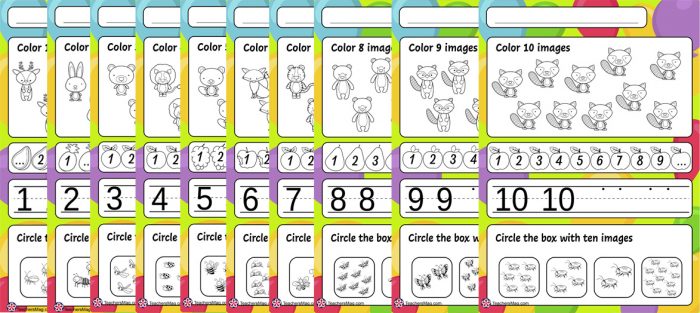 I Spy Numbers Printables With Numbers 1-10
These printables are all about helping young children to correctly identify the numbers 1-10. Each worksheet is focused on one of these specific numbers and has children color-in the number they are supposed to locate on each sheet.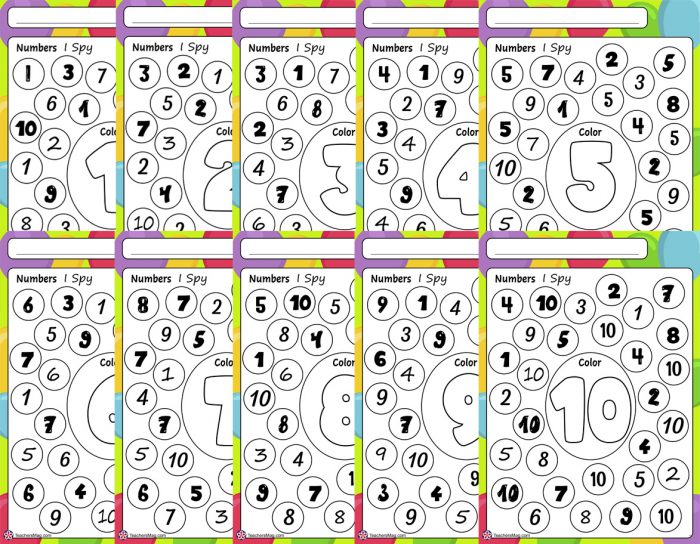 Worksheets On the Numbers 1 To 10
These worksheets are focused upon the numbers 1-10 and a great for kindergarten students! They include ten pages, one for each number with 5 activities on each sheet.
On each page, students will:
Trace and write the indicated number.
Trace and write the number as a word.
Color the number and its word.
Color the picture.
Cut out the numbers on the left of the sheet, choose the ones needed and glue them on the picture.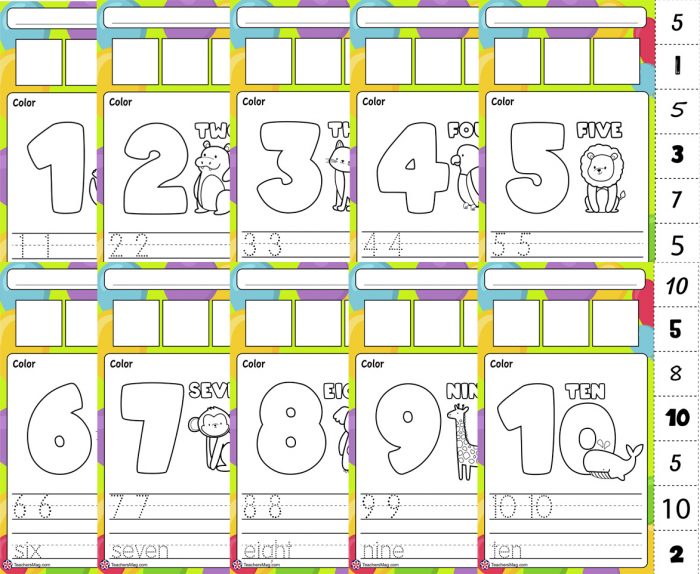 Printable Numbered Play-Doh Mats
11 sheets (numbers from 0 to 10) full color + 11 sheets black and white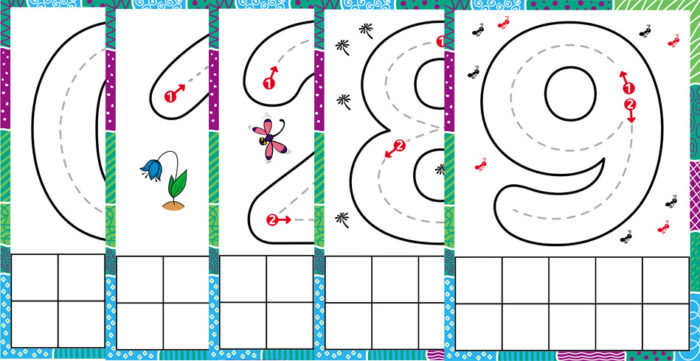 Total: 52 sheets
🔢 Discover the World of Numbers with Our Numbers 1 – 10 Worksheets! 🧮🌟
Get ready to embark on an exciting mathematical journey with our "Numbers 1 – 10 Worksheets." Whether you're a dedicated preschool teacher or a parent eager to introduce your child to the wonders of numbers, you've just unlocked a treasure chest of educational resources designed to make learning numbers a captivating adventure.
Why Choose Our Numbers 1 – 10 Worksheets? 📚
🔍 I Spy Numbers: Our product isn't just about numbers; it's an "I Spy" extravaganza. Each printable is a mystery waiting to be solved. Kids will use their keen observation skills to hunt for and identify numbers, making learning a thrilling detective mission.
🎨 Trace, Color, and Cut: Learning numbers should be a canvas for creativity. Our worksheets go beyond simple tracing. Kids will trace, color, and even cut out numbers, turning each digit into an art project. It's a fun way to engage both sides of the brain.
🍯 Play-Doh Math Magic: Numbers and Play-Doh are a dynamic duo. Our printable numbered Play-Doh mats turn math into a hands-on adventure. Kids can mold and shape numbers, making learning tactile and imaginative.
🧲 Magnetic Insights: Numbers are all around us. From the magnets on your fridge to the numbers on your street, numerals are an essential part of everyday life. Our worksheets encourage kids to spot numbers in their environment.
🎉 Early Math Marvels:
🧩 Math and Memory: Memorizing numbers is like mastering puzzles. In the world of memory championships, competitors can recall the order of a shuffled deck of cards in a matter of seconds.
🗺️ Number Nomenclature: Numbers are called different things worldwide. For example, the number "7" is known as "sept" in French and "sieben" in German. Our worksheets foster a love for numbers while celebrating their global diversity.
🔢 Number Wonderland: Learning numbers is a step toward mathematical literacy and a world of possibilities. Our worksheets not only teach counting but also foster an early love for math and critical thinking.
🌟 Math-Made Fun: In our world of Numbers 1 – 10 Worksheets, each page is an invitation to explore, discover, and engage with numbers. 🌈🧩🎉