Description
1 PDF / 36 sheets
Desert Worksheets
10 sheets
These desert worksheets are all themed for those hot and sandy landscapes! These are a great way to learn various subjects while tying them in with a desert theme.
Count and compare.
Sand Dune Tracing. Count the dunes. Trace an even number in blue, and an odd number in red.
Creatures in the desert. Find and outline all the animals.
Snakes. Count and color snakes by the matching total number of cells
Vultures on a tree. Write down how many birds are sitting on the left branch, on the middle branch, and on the right branch.
Baby turtles. Count and write the total numbers of eggs, baby turtles on the sand, and adult turtles in the water.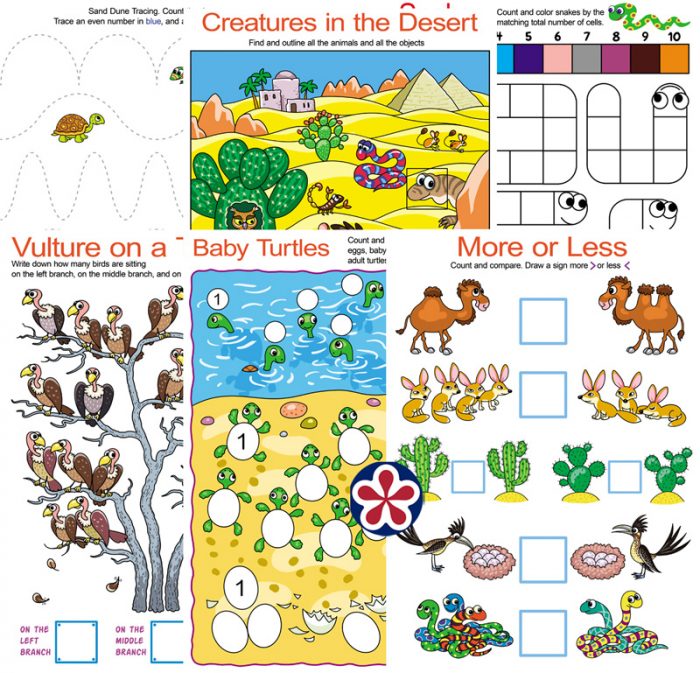 Asian Animals Worksheets
10 sheets
These worksheets feature animals found on the Asian continent! Asia is the largest of all the continents and covers a lot of geographic and climate zones, resulting in a fascinating mixture of creatures found there.
Who is it? You need to fill in the letters to spell the name of the animal.
Where? To do this worksheet you find and circle the animal according to the coordinates. + black-and-white version.
Find 10 Differences between Two Pictures
Family Felidae. This worksheet features big cats and math equations that equal what kind of creature they are! + black-and-white version.
Elephant Counting Worksheet. For this worksheet, you trace the elephant and then fill-in the counting sections with the needed missing digits. + black-and-white version.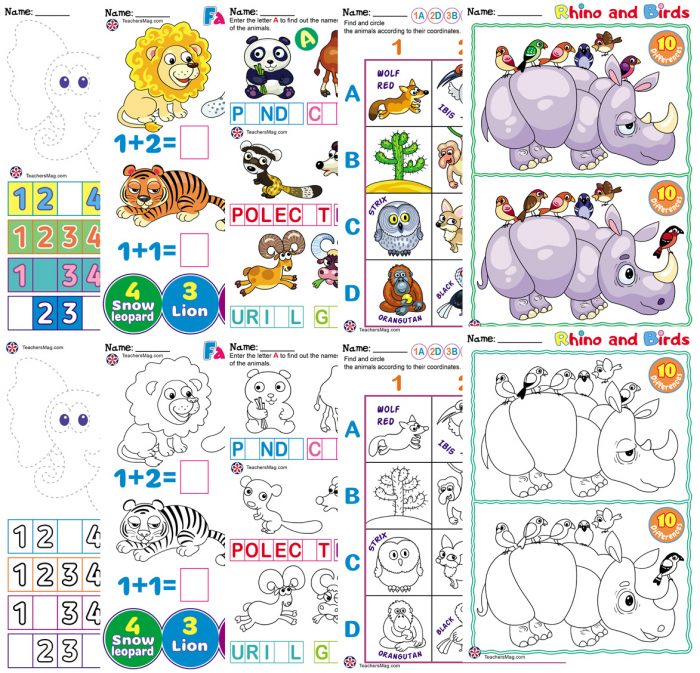 Asian Reptiles for Kids
4 sheets
Black-and-white and color versions of the Asian Reptiles landscapes as well as sheets with black-and-white or color versions of the reptiles themselves.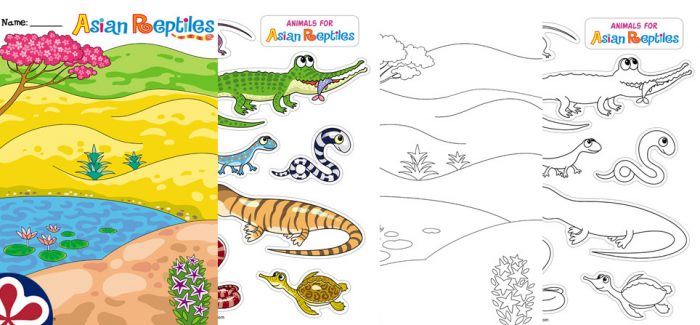 Australian Cut and Paste Landscape
3 sheets
This cut and paste landscape activity helps children to cut out and then paste images of various animals found in Australia!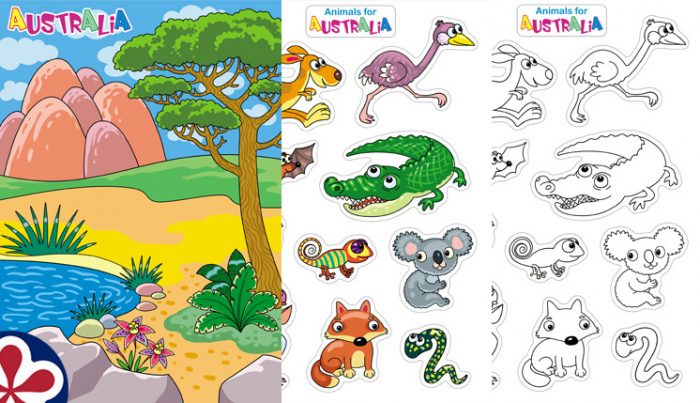 Animals of Australia Worksheets
9 sheets
These fun worksheets are all themed for the exotic animals of Australia.
Australian Animals. Children need to find and color all the letters that make up the name of the reptiles.
Find the letter by color
Amadina. For this worksheet, the birds have shapes within various body parts that correspond to the color you should fill in each aspect of the birds.
Bird Count Worksheet. + black-and-white version can be colored-in for additional fun as well!
For next worksheet, lines are drawn from the initial letter (A) to spell, "Australia." + black-and-white version.
Connect the Circles. For this worksheet, you need to draw a line connecting the circle to the correct kind of animal pictured–mammal, birds, or fishes.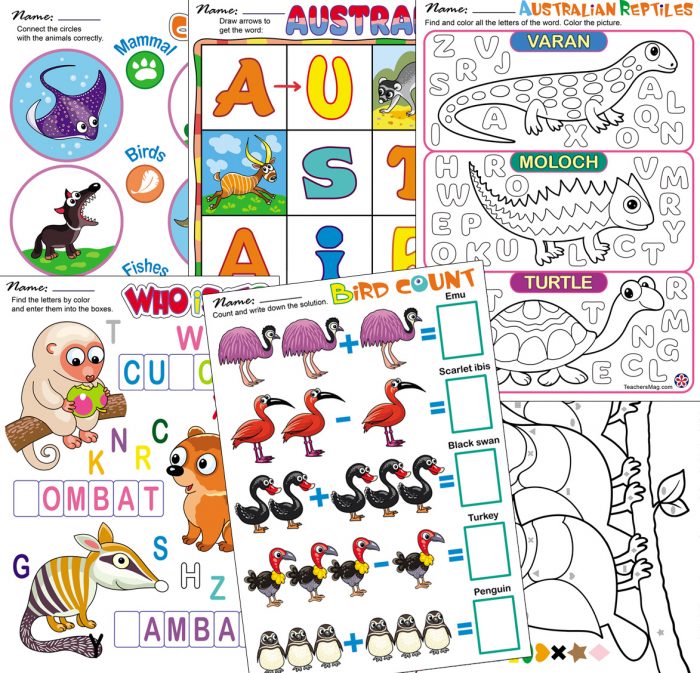 Total: 36 sheets