Description of the Farm Animal Worksheets and Activities PDF
Over two PDF files, you will receive 42 worksheets and 10 coloring activity sheets (totaling 38) which are themed for animals found on the farm and can be used with preschool students!
Farm Animal Worksheets for Preschoolers
The worksheets focused on farm animals cover a wide range of subjects such as:
A prepositions activity with a mother hen and her chicks.
A farm-focused matching activity.
Color by number worksheets full of fun farm animals.
Vocabulary word worksheets that are focused on farm animals.
Tracing letters themed for farm animals to learn how to write them.
Matching activities with farm animals and the foods they like to eat.
Shape recognition activities themed for the farm.
Farm templates
And more!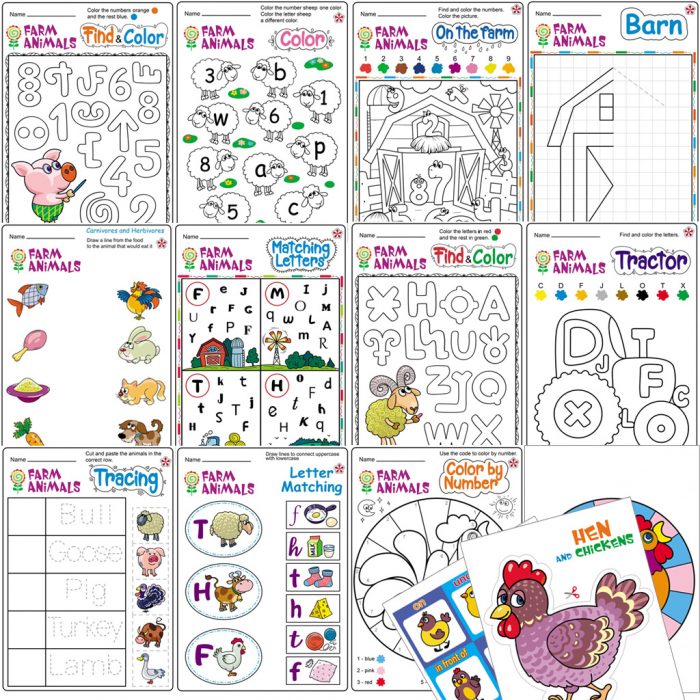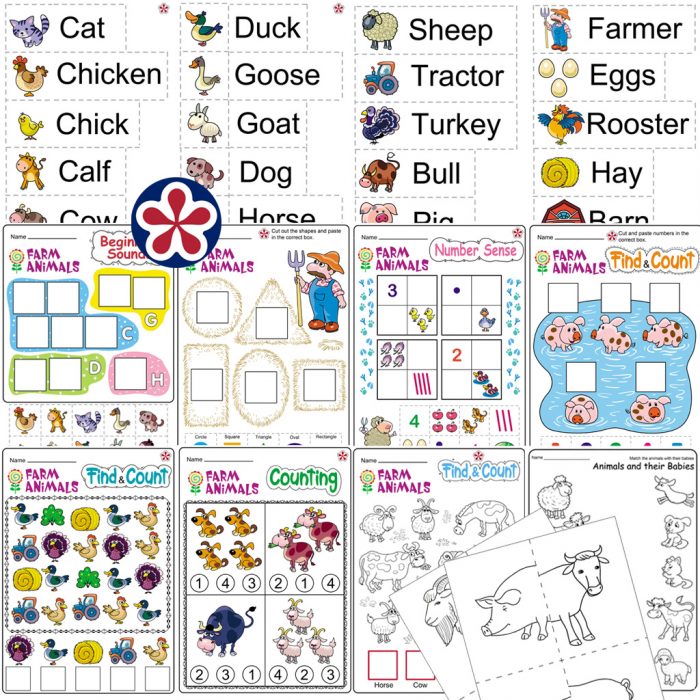 Farm Animals and Their Babies Coloring Pages
10 sheets
The 10 coloring sheets focused on farm animals include ones such as a black-and-white printable with farm animals and their babies. These help students learn what baby animals look like and allows the children to have a stellar time coloring-in the images!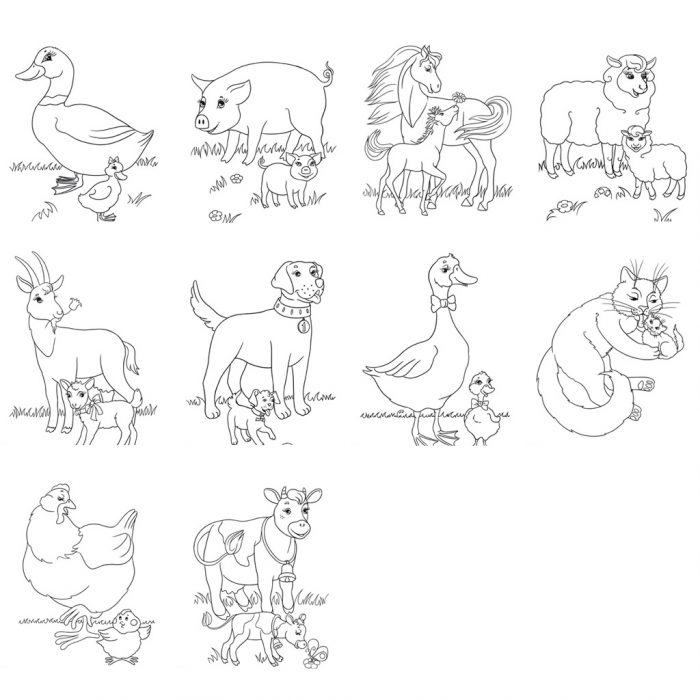 These 38 animal worksheets and printable coloring activities are fantastic for preschool students who are curious about farms and farm animals!
Farm Animal Outline Images
This collection of printable farm templates is perfect for various farm or country-themed craft projects. Whether you're working on applique, paper cutting crafts, bulletin board designs, or any other farm-related crafts, these templates will come in handy.
14 sheets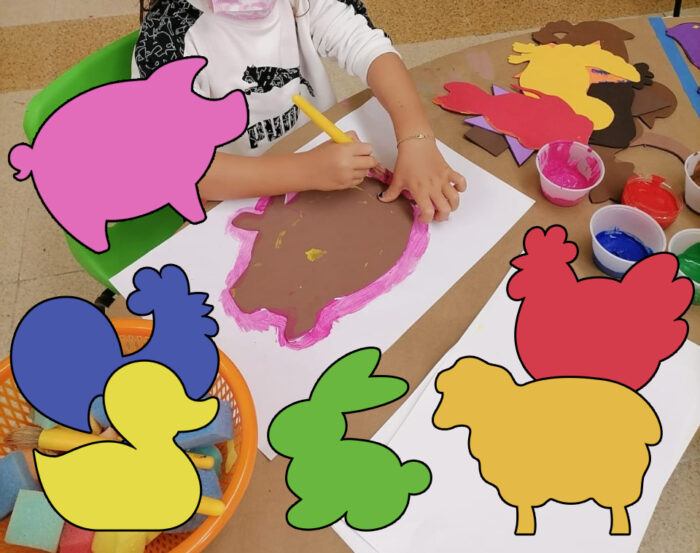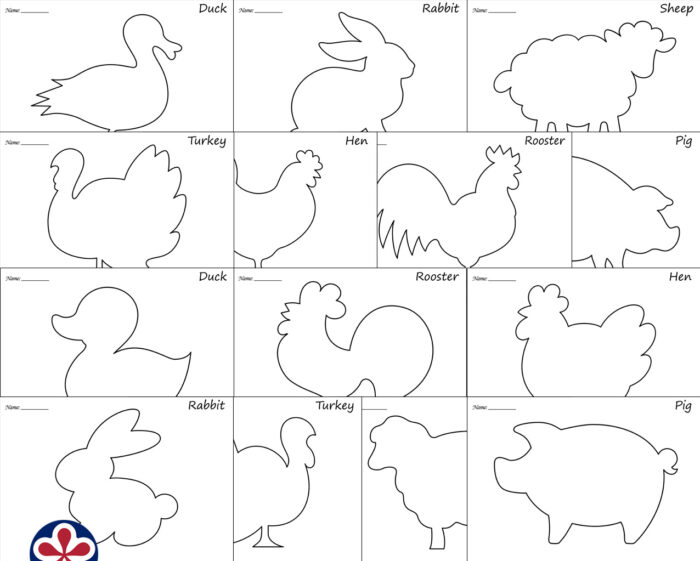 🐮🚜 Farm Animal Worksheets and Activities: Where Learning Meets the Barnyard! 🌾🎨
Engage your young learners with an exciting adventure on the farm through our "Farm Animal Worksheets and Activities" PDF. This comprehensive resource includes 42 captivating worksheets and 10 fun coloring activity sheets, all centered around the delightful animals that call the farm their home.
🦆🐷 Explore the Farmyard Menagerie – A World of Learning and Fun! 🐥🐄
Our PDF offers an educational journey through the eyes of the farm's most beloved residents. With images of cheerful cows, quacking ducks, oinking pigs, and clucking hens, children can immerse themselves in a world of rural charm while expanding their knowledge.
🐓📚 Educational Adventures Await! 🐑🎓
Learning in Disguise: While children have fun coloring and completing activities, they're also subtly learning about animals, their habits, and the farm environment.
Enhanced Motor Skills: Coloring, cutting, and pasting activities in the worksheets help children develop fine motor skills.
Vocabulary Expansion: Young learners can boost their language skills by discovering new words and concepts related to farm life.
🚜💡 Benefits for Students and Teachers 📖👩‍🏫
Our "Farm Animal Worksheets and Activities" PDF caters to both educators and students, offering a myriad of advantages.
For Educators:
👩‍🏫 Interactive Learning: Use these worksheets to make your lessons more interactive, bringing the farm experience right into your classroom.
🌱 Cultivate Interest: Foster a love for animals and nature, promoting a deeper understanding of the farm environment.
🎨 Creativity Unleashed: Encourage children to express themselves through coloring and artwork, fostering creativity.
For Students:
🐣 Hands-On Discovery: Young minds can explore the world of farm animals in an engaging and tangible way.
📚 Language Enrichment: Discover new words and expressions while having a blast with the coloring and activity sheets.
🎉 Educational Fun: The farm-themed activities make learning exciting and enjoyable, leaving students eager for more.
🐄🦉 An Ode to Farm Life – Both Fun and Educational! 🐔🎨
Immerse your students in the world of farms, where they can meet animals, learn about the environment, and enjoy the creative process. Our "Farm Animal Worksheets and Activities" PDF is not just a learning resource; it's a bridge to the delightful rural world. Download, print, and dive into a world of fun learning!
🖍🌾 Color, Learn, and Grow with Farm Animals! 🚜📚
Did You Know? Two Fascinating Farm Animal Facts:
Cows Have Best Friends: Just like humans, cows can form strong bonds with their fellow herd members. They have distinct social hierarchies, and some cows even have best friends with whom they prefer to spend their time.
Goats are Excellent Climbers: Goats are known for their exceptional climbing abilities. They can scale steep and rocky terrain with ease, thanks to their strong hooves and remarkable agility.
Enrich your classroom experience or home-schooling sessions with the charm and education of farm life. Bring the barnyard to life one page at a time, and watch your students' enthusiasm for learning flourish. 🎨🦆