Description of the Community Helpers: Firefighter PDF
These worksheets are great for when a classroom is learning about firefighters for a career day event, as part of a fire prevention week, or any other time the subject of how firefighters are our community helpers is being covered. There are 21 sheets total all in PDF form.
There are worksheets that can be used for fire station-themed dramatic play-related activities. these are very useful for when students are pretending to be firefighters.
Also included are fire safety-focused coloring sheets that children can color-in while learning about how firefighters help to keep us safe. In addition, there is a fire truck paper craft activity children can do which allows them to create their own exciting-looking fire truck!
Lastly, there are worksheets focused specifically on firefighters and the items they use to both prevent and fight fires.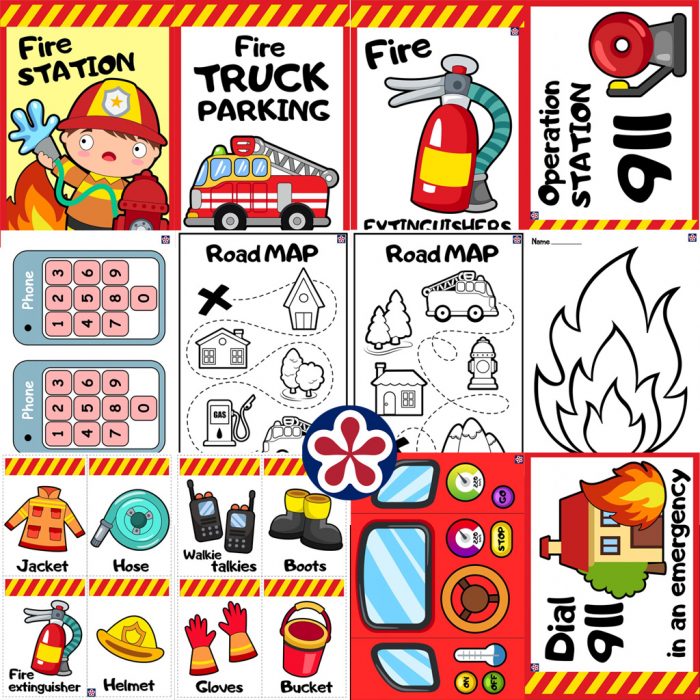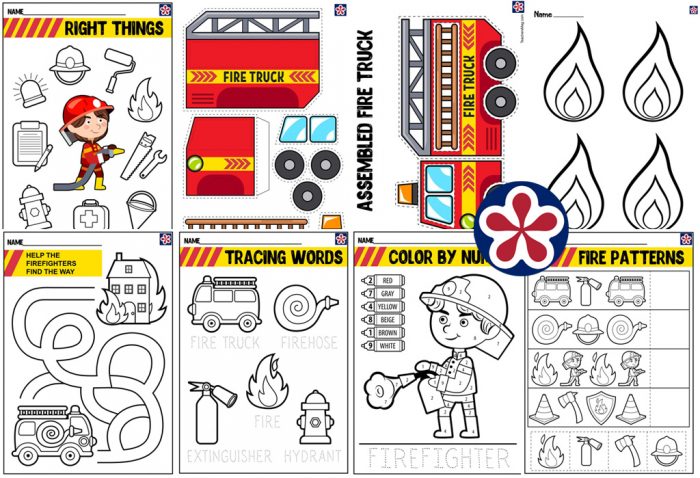 All of the worksheets are sure to be great fun for all the kids in your classroom!
Total:  1 pdf / 21 sheets
👨‍🚒🔥 Community Helpers: Firefighter – Unleash the Hero Within! 🚒👩‍🚒
Are your students fascinated by brave firefighters and the important work they do? Ignite their curiosity and admiration with our captivating "Community Helpers: Firefighter" PDF. This comprehensive resource offers an enlightening journey into the world of firefighting and the heroes who protect our communities.
🚒🔥 Explore the Firefighter's Realm – A World of Courage and Commitment! 🧯🔥
Our PDF is not merely a collection of facts; it's a bridge to understanding the essential role of firefighters in our society. The product includes a detailed exploration of firefighter equipment, showcasing everything our real-life heroes need to battle the flames and save lives.
🔥🚨 Educational Adventures Await! 📚🧯
Immersive Learning: Dive deep into the world of firefighting, encouraging a profound appreciation for the heroic work done by firefighters.
Interactive Learning: Make lessons more engaging by using visual aids, transforming abstract concepts into tangible understanding.
Career Exploration: Introduce children to various community helpers' professions, broadening their horizons about potential future careers.
📚💡 Benefits for Students and Teachers 🧒👩‍🏫
Our "Community Helpers: Firefighter" PDF serves as an invaluable educational tool, offering numerous advantages for both educators and students.
For Educators:
📚 Interactive Lessons: Enhance your lessons by delving into the exciting world of community helpers, fostering students' interest in real-world heroes.
🌟 Inspiration: Fuel your students' dreams and aspirations by introducing them to the extraordinary work carried out by firefighters.
🔥 Real-Life Connection: Create a connection between classroom learning and the world outside by exploring the critical role of firefighters in the community.
For Students:
🌈 Inspiration for Heroes: Encourage students to aspire to be community heroes while learning about the bravery and dedication of firefighters.
📖 Practical Learning: Experience hands-on learning as they discover the purpose and significance of firefighter equipment.
🧯 Safety Awareness: Develop a deep awareness of fire safety, preparing students to act responsibly in emergency situations.
🚒🔥 Firefighting Facts to Ignite the Imagination:
Firefighter Equipment: Firefighters don specialized gear, including turnout coats, helmets, gloves, and self-contained breathing apparatus (SCBA) to protect themselves while combating fires.
Firefighting Hazards: Besides flames, firefighters face dangers like smoke inhalation, falling debris, and high temperatures during their heroic missions.
🚀👩‍🚒 A Lesson in Heroism – Nurturing Young Hearts and Minds! 📚🧯
Immerse your students in the brave world of firefighters and kindle their appreciation for these community heroes. Our "Community Helpers: Firefighter" PDF is more than just a learning resource; it's a gateway to a world of courage and selflessness.
👨‍🚒🔥 Unleash the Hero Within with Firefighters! 🚒📚
Download, print, and delve into the captivating universe of firefighters. This educational resource is not only a window into the firefighter's world but also a celebration of bravery and dedication that can inspire young hearts. 🧯🔥