Description of the Christmas-Themed Math Activities PDF
2 PDF Files / 2 activities / 11 sheets
Christmas Tree Counting Math Activity
PDF Files/ 6 Sheets
This math activity is all about Christmas tree counting! By using these free printables you have a fun way to practice counting from 1 to 10.
What's Included:
Five pages of trees numbered from 1-10.
One page of presents (to be stocked under the trees)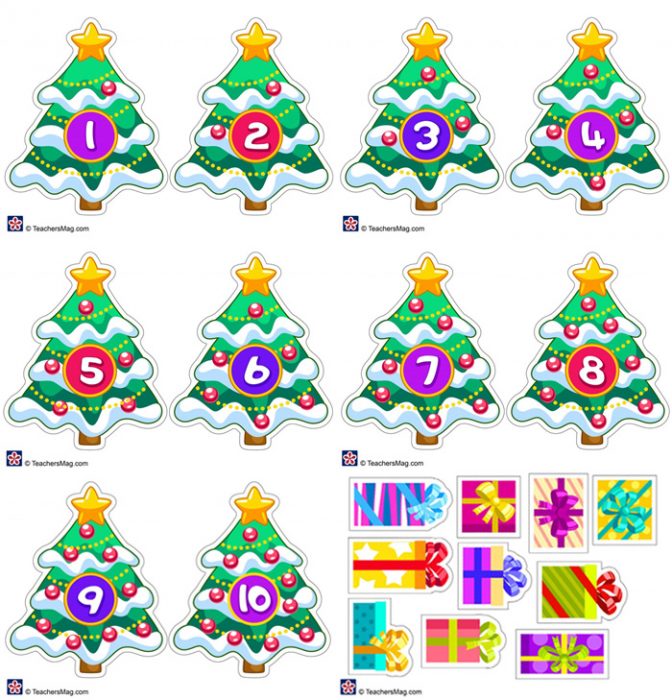 Gingerbread-Themed Math Activity
PDF Files/ 5 Sheets
During the Christmas season doing gingerbread-themed activities is both fun and festive! This math activity uses free printable sheets of gingerbread men that can be turned into laminated mats for counting, "Gumdrops," made of Play-Doh.
These are very easy to prep and quite versatile. You simply need to print them and then lamination is recommended as well to ensure they last a long time. The printables have differing numbers so that students can put things such as Play-Doh rolled into little, "Gumdrop," balls atop them to match the pictured number. It is also possible to use everything from real gumdrops to beads, sequins, or whatever is handy within your craft closet!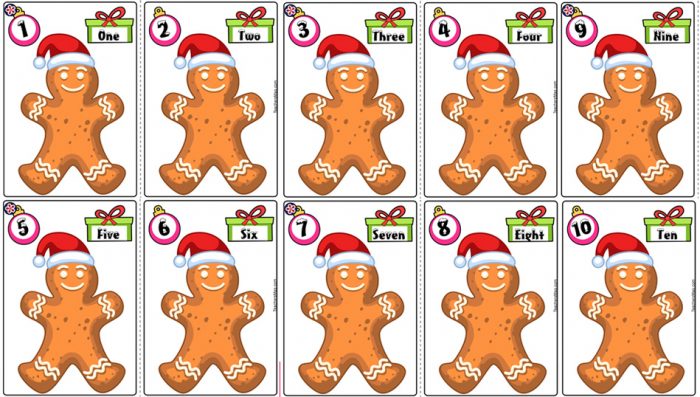 🎅🎄 Christmas-Themed Math Activities: Adding a Sprinkle of Holiday Magic to Learning! 📚🌟
Experience the joy of learning during the holiday season with our "Christmas-Themed Math Activities" PDF! This downloadable resource is designed to infuse the magic of Christmas into your math lessons and make learning fun and festive. Perfect for teachers, parents, and anyone eager to spread the holiday cheer while exploring math concepts. 🎁🔢🎄
🎅📊 Math Meets the Magic of Christmas 🎉🎄
This PDF download includes enchanting math activities that bridge the gap between learning and holiday celebrations. Here's what you'll discover in this digital package:
🎄 Christmas Tree Counting Math Activity: Dive into the world of numbers and counting while decorating Christmas trees with colorful ornaments.
🍪 Gingerbread-Themed Math Activity: Combine the fun of gingerbread cookies with learning as you explore various math concepts, sparking creativity and critical thinking.
📚🎅 Benefits of "Christmas-Themed Math Activities" 🎓🌟
This festive math resource offers a host of advantages:
🧒 Engaging Learning: Make math enjoyable and memorable during the holiday season, fostering a love for numbers and problem-solving.
🍬 Holiday Spirit: Infuse your learning environment with the warmth and cheer of Christmas, enhancing the overall educational experience.
🎄📊 Fascinating Facts about Christmas Math 🎁📚
Unwrap the magic of Christmas-themed math with these fascinating tidbits:
1. The Twelve Days of Christmas: The classic holiday song "The Twelve Days of Christmas" is more than just a catchy tune. It's also a complex mathematical riddle. Each verse introduces new elements, resulting in a grand total of 364 gifts over the 12 days!
2. Christmas Geometry: Ever wonder why we use a star as a tree topper? It's a nod to geometry! The star represents the Star of Bethlehem, guiding the Wise Men to the birthplace of Jesus, and it's often placed at the pinnacle of the tree, signifying the "highest" point.
📊🎅 Unlock the Joy of Christmas Learning with "Christmas-Themed Math Activities"! 🌟🎄📝
Whether you're a teacher looking to bring the magic of the season into your classroom, a parent eager to make holiday learning special, or someone simply enchanted by the beauty of Christmas, our "Christmas-Themed Math Activities" PDF will light up your festivities. Download it today and let the spirit of Christmas enhance your math adventures! 📚🔢🎁🎄🌟