Description of the Christmas Bingo PDF
1 File PDF  / 12 sheets
CONTENTS: 12 useable pages:
10 Different Bingo Cards- plenty for small group or to play with the entire class
Christmas words – 2 sheets / 19 words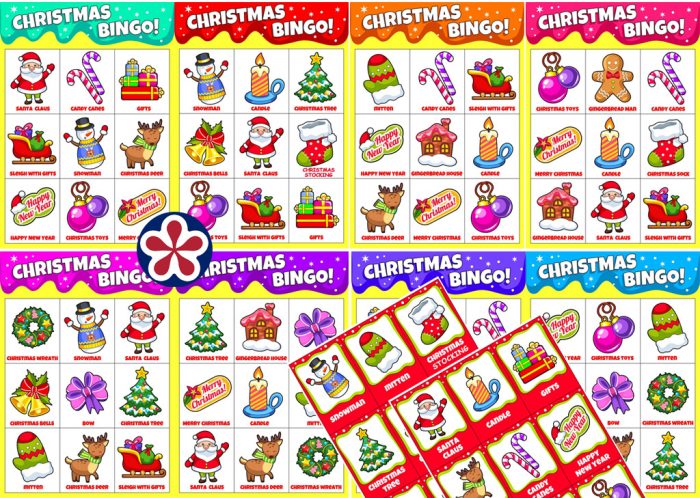 These bingo sheets are fantastic for playing a Christmas-themed version of the game!
You can hand individual sheets out to students and then have your own which you cut into pieces that are then randomly drawn and called aloud. Once students have a row filled vertically, horizontally, or diagonally, they get to yell, "Bingo!"
This activity is great for helping students work on their listening-skills, image recognition, and their reading skills. They will need to pay careful attention to hopefully win a round of Bingo!
🎄🎅 Christmas Bingo: Add Holiday Cheer to Your Celebrations! 🌟🎲
Elevate your Christmas festivities with our "Christmas Bingo" PDF! This downloadable product is your ticket to hours of fun, perfect for family gatherings, classroom parties, or any event where you want to infuse the joy of the season into your games. Download and print our Christmas Bingo cards and word sheets to experience the magic of Christmas through play. 🎁🎅🔢🎄
🎅🎲 A Twist on Traditional Bingo 🎄🌟
"Christmas Bingo" is a delightful twist on the classic game of Bingo, adorned with festive holiday elements. Here's what you'll find in this digital package:
🎲 10 Different Bingo Cards: Plenty for small groups, classrooms, or large gatherings, ensuring everyone can join the fun.
📜 Christmas Words: Two sheets filled with 19 carefully selected Christmas-themed words, making this Bingo edition all the more special.
🎄🎅 Benefits of "Christmas Bingo" 🌟🎁
Our Christmas Bingo product offers a host of advantages:
👪 Quality Time: Bring family and friends together for memorable moments filled with laughter, joy, and healthy competition.
🧠 Educational Fun: While primarily a game, Bingo can enhance cognitive skills like attention, concentration, and listening.
🎅🔢 Fascinating Facts about Bingo and Christmas 🌟📚
Here are some captivating facts about Bingo and its delightful union with Christmas:
1. Bingo's Origins: The game of Bingo traces its roots to an Italian lottery game called "Il Giuoco del Lotto D'Italia," which emerged in the 16th century. It evolved into the modern Bingo we know today, enjoyed around the world in various forms.
2. Holiday Tradition: In some countries, Bingo becomes a cherished part of Christmas celebrations. People gather for festive Bingo games, featuring holiday-themed cards and prizes, adding an extra layer of merriment to the season.
🔢🎄 Unwrap the Joy of Christmas with "Christmas Bingo"! 🎁🎲🎅🌟
Whether you're a teacher looking for a fun classroom activity, a parent planning a memorable family game night, or a party host aiming to keep your guests entertained, "Christmas Bingo" is the perfect addition to your celebrations. Download and print it now to create holiday memories filled with laughter and excitement. 📜🎄🎲🎅🎁🌟