Description of the Birthday Months Printable Posters by Kindergarten PDF
Happy Birthday Printable Chart
The perfect birthday display to celebrate every student's special day!
9 sheets PDF :  4 birthday chart (A4 or A3) + 5 birthday cards
This printable poster is easy to put together after printing off. Four sheets are available for the four seasons, each with uniquely themes pictures and colors for the time of year. The sheets can be displayed in a variety of ways depending on the layout of a classroom. Display just the current season, or have all four displayed all year long.
There is plenty of room for students to list their name and birthday for the rest of the class to see. Children love checking the chart throughout the year to see who has the next birthday on the schedule. For added customization, cross off or put a symbol next to everyone's birthday once it has passed.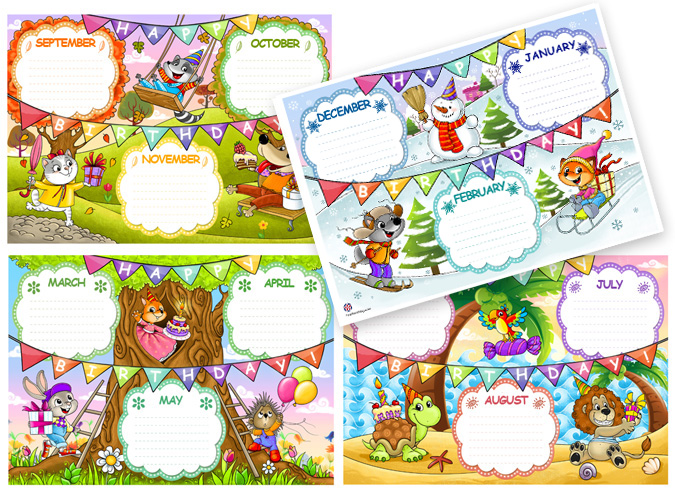 Along with the four main posters are five unique birthday cards. This is the perfect gift to help other students in the preschool or kindergarten classroom to feel special. Every card can be fully customized for a one-of-a-kind look.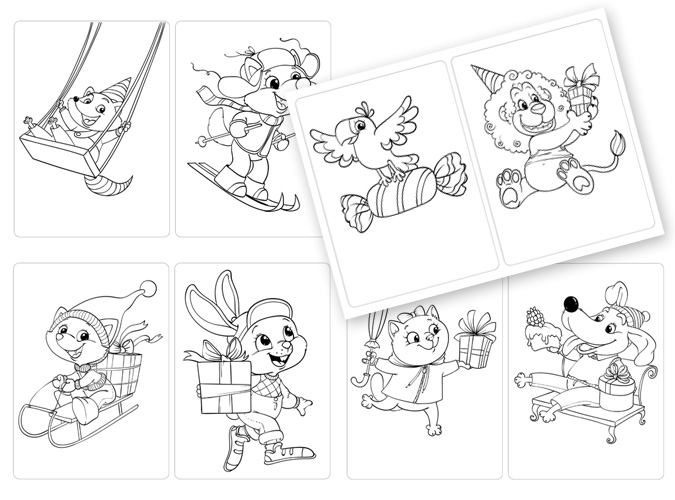 Tags: Birthday Months for student, Editable Birthday Display Posters, Happy Birthday Learning Chart
Birthday Board Display Headings
🎉🌟 Birthday Months Printable Posters by Kindergarten – Celebrate Each Student's Special Day! 🎂📆
🎨🖨️ The Perfect Classroom Decor for All-Year Round Birthdays! 🏫🎈
Welcome to the world of colorful and creative birthday displays! Our "Birthday Months Printable Posters" are a delightful PDF product, ready for download and printing. Designed with kindergarteners in mind, these posters are the ideal addition to any classroom, offering a year-round celebration of each student's unique day. Let's explore the wonderful world of birthdays and the educational benefits hidden within these posters!
📆🌼 Discover the Magic of Birthday Months! 🌈🎁
Our printable posters feature a charming and visually appealing representation of all twelve months, each adorned with vibrant illustrations and themes that perfectly embody the spirit of that specific month. These posters create a warm and welcoming atmosphere in the classroom, allowing both students and teachers to engage in special birthday celebrations.
🖼️🎂 Why Our Birthday Months Posters Are a Must-Have: 🖌️🎉
🎨 Colorful Decor: These posters add a burst of color to your classroom, making it a more inviting and joyful space for all.
📆 Year-Round Celebration: With a poster for each month, you can celebrate student birthdays at any time during the school year.
📚 Learning Opportunities: These posters offer a chance to explore and discuss the unique characteristics and events associated with each month.
🏫 Classroom Community: They promote a sense of community by celebrating individual student birthdays in a fun and educational way.
🎈📚 Benefits of Celebrating Birthdays in the Classroom: 🎒🌟
🎉 Inclusivity: Every student's birthday is acknowledged, fostering an inclusive and caring classroom environment.

🧠 Learning Opportunities: Birthday celebrations provide opportunities for learning about calendar months, seasons, and traditions.

🤗 Building Relationships: Recognizing birthdays strengthens the teacher-student bond and encourages friendships among peers.

🎨 Creative Expression: Decorating and personalizing the posters is a creative activity that enhances fine motor skills.
🎂🤓 Interesting Birthday Facts: 🎁🧒
Historical Roots: Birthday celebrations date back thousands of years to various cultures, each with its own unique customs.

The Birthday Cake: The tradition of the birthday cake can be traced to ancient Greece, where people offered round honey cakes to honor the moon.
🎁🏆 Transform Your Classroom into a Year-Round Birthday Wonderland! 🎊🎂
Make every student's birthday special with our "Birthday Months Printable Posters." Download this enchanting product and watch your classroom come alive with color and celebration. Explore the educational value of celebrating birthdays while creating a warm, inclusive, and engaging learning environment. Let's celebrate every student's special day! 🎈🌟📆