Description
Antarctic Animals Worksheets
6 sheets
These worksheets are all themed for Antarctic animals and are great fun to do during a learning segment focused on this coldest continent!
Antarctic Scene Puzzle
Sea Animal Worksheet. For this worksheet, you fill in the circle for the correctly matching animal.
Antarctic Whales. To do this worksheet you identify tails that connect with certain whales and draw a line from the matching tail to its correct whale!
Northern Squid. On this worksheet, you need to find all the letters of the word, "Antarctica," and draw lines to them that create the squid's tentacles.
Penguins Worksheet. This worksheet requires you to draw lines on the ice floes so that they are shared equally between the group of penguins!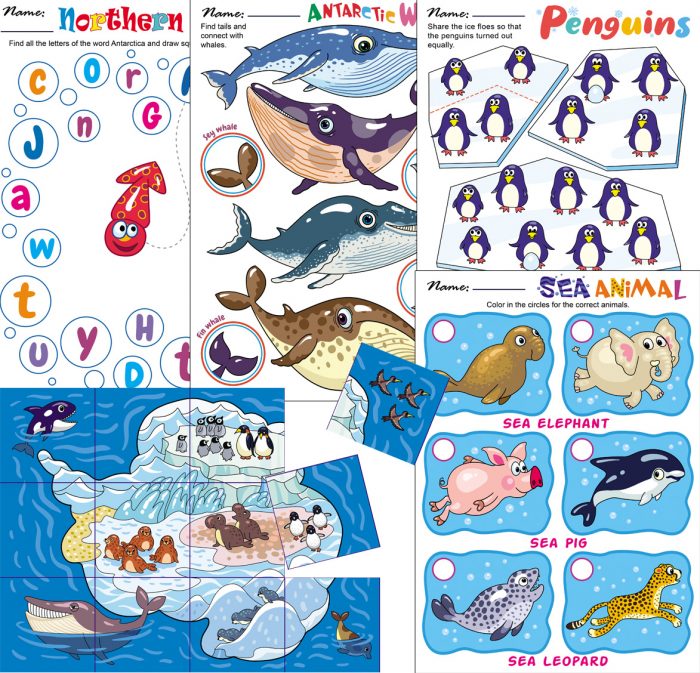 Arctic Animals Worksheets for Preschoolers
6 sheets
Animals that live in the Arctic are some of the hardiest and strongest around! They put up with very cold and harsh conditions, this makes them very interesting.
Funny Seal Worksheet. Color each Seal by the numbers indicated so there is a total count of deals with each design shown at the bottom of the worksheets.
Arctic Spelling. Find and color all the letters of the word ARCTIC, then color the picture.
Counting Whales Worksheet.
Arctic Animals Worksheet. Color a white circle only for Arctic animals.
Arctic Birds Worksheet. Cut and paste bird pictures.
Color by Number Worksheet.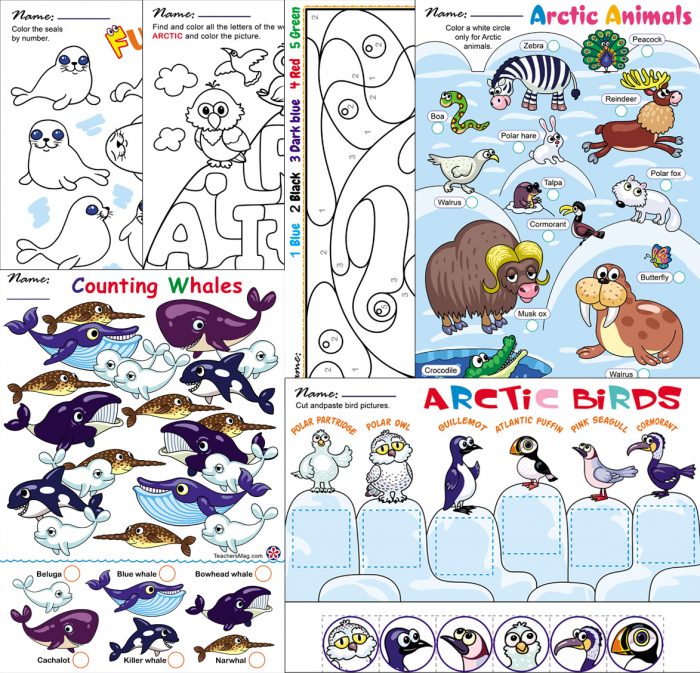 Antarctica Cut and Paste Landscape
2 sheets
This sheet features a beautiful Antarctic landscape that you can cut and paste animals from the other sheet onto!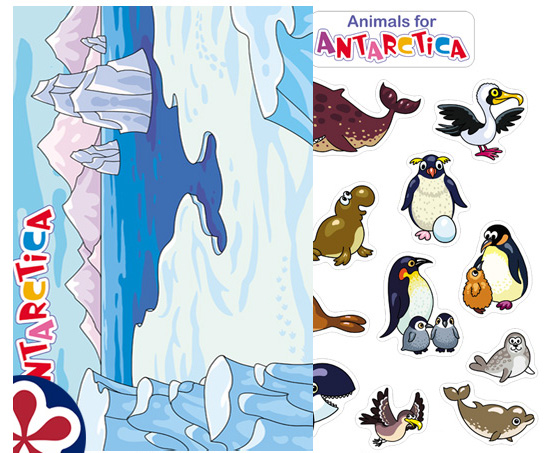 Bear Craft Templates
2 sheets
Students get to cut all the pieces out and then assemble them to look correct before proceeding to glue everything together! There are two fun templates!