Description of the 3D Butterfly Paper Craft PDF
Make a Beautiful 3D Butterfly Paper Craft
PDF 3 page:
Paper Butterfly Templates
Background page
+ Butterfly Shadow Matching Worksheet
With this 3D Butterfly Paper Craft, you are sure to be impressed by the design and quality of these butterflies. With super easy to cut images, kids are sure to be entertained, guaranteeing a fun time! The 3D nature of this craft gives a fun twist to a staple childhood activity: making butterflies!
It's super simple to assemble!
All you have to do is: print the materials from the PDF, cut out the butterflies by following the lines, and attach them to the beautiful background sheet! The simple nature of this craft ensures that children of all ages can participate in this fun activity.
Want to utilize this craft as a learning opportunity for your children?
Each butterfly is labeled with its name, so you can teach the kids all about butterflies! Pair it with a trip to a local butterfly garden, or use it as a gateway to learn more about other insects!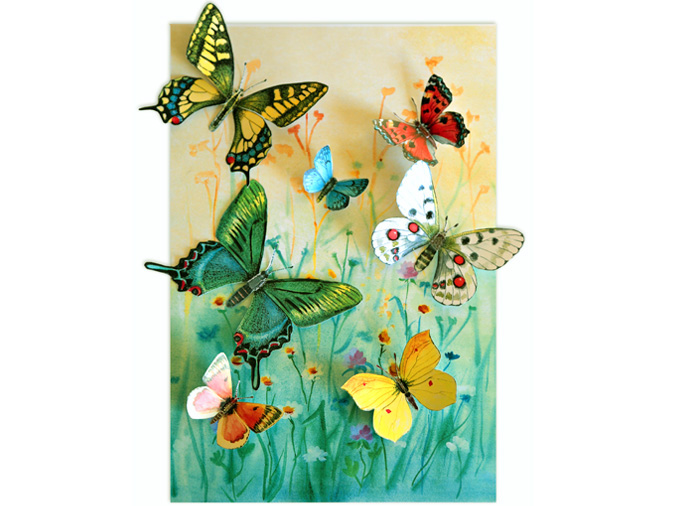 Tags: Paper butterfly, Butterfly Craft, Butterfly Cut Out, flapping butterfly
🦋 Unleash Creativity with our 3D Butterfly Paper Craft! 🎨
Dive into the world of art and imagination with our enchanting 3D Butterfly Paper Craft. This captivating, downloadable PDF product is designed to inspire creativity, develop fine motor skills, and provide hours of educational entertainment for children. With beautifully designed paper butterfly templates, a background page, and a fun butterfly shadow matching worksheet, the possibilities are endless!
🦋 What's Inside the 3D Butterfly Paper Craft Kit? 🌸
Paper Butterfly Templates: A delightful assortment of butterfly templates awaits, each with its unique shape and pattern. Kids can choose their favorites and color them to their heart's content.
Background Page: Create a vibrant, picturesque world for your paper butterflies. The background page allows kids to design a magical setting for their fluttering friends.
Butterfly Shadow Matching Worksheet: Engage in a playful learning experience with a butterfly shadow matching worksheet. Sharpen visual recognition and cognitive skills while having fun.
🖌️ The Art of Imagination and Creativity! 🎨
Our 3D Butterfly Paper Craft is more than just a fun activity; it's a versatile educational tool that fosters creativity, motor skills, and cognitive development. This product caters to both parents and teachers, making it perfect for home and classroom use.
🌸 Two Fascinating Scientific Facts for Everyone! 🌼
Butterflies Taste with Their Feet: Butterflies have taste receptors on their feet, which help them identify whether a leaf is a suitable place to lay their eggs.
Butterflies Can See Beyond the Rainbow: Humans can perceive a broad spectrum of colors, but butterflies can see ultraviolet light. They can identify patterns and colors that are invisible to us, giving them a unique view of the world.
📚 Educational Benefits for Teachers and Students! 🎓
Our 3D Butterfly Paper Craft offers a multitude of educational benefits:
Enhanced Creativity: Encourages kids to explore their artistic side by designing and coloring their butterflies and their backdrop.
Fine Motor Skills: Cutting, folding, and assembling the butterflies promotes fine motor skill development.
Cognitive Development: The shadow matching worksheet aids in the development of pattern recognition and cognitive abilities.
Imagination and Storytelling: Children can weave tales about their butterflies, enhancing their narrative and imaginative skills.
Versatile Learning: Suitable for various age groups, from preschoolers to older students, ensuring a comprehensive learning experience.
🌸 Download our 3D Butterfly Paper Craft today and watch your child's creativity take flight!
It's not just a fun activity; it's a doorway to artistic expression and educational growth. 🦋🎨