Description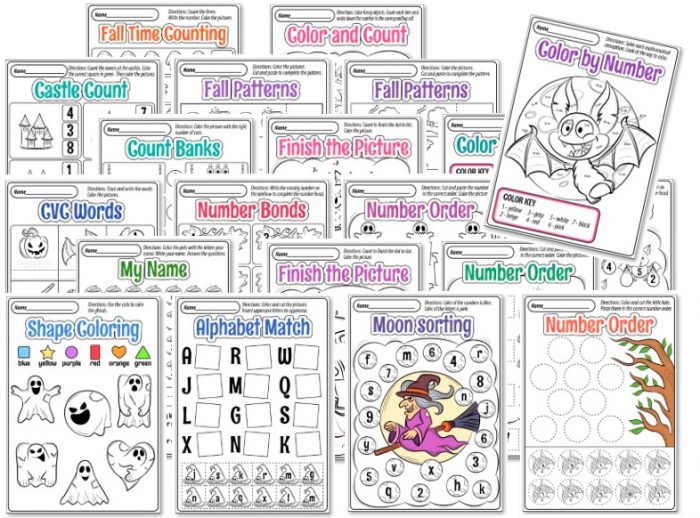 20 sheets
What's PDF file included:
Fall time counting. Count the item. Write the number. Color the pictures.
Color and count. Color funny objects. Count each item and write down the number in the corresponding cell.
Castle count. Count the towers at the castles. Color the correct square in green. Then color the pictures.
Fall patterns – 2. Color the pictures. Cut and paste to complete the pattern
Count banks (1-10). Color the pictures with the right number of cans.
Finish the picture – 2. Color the pictures. Cut and paste to complete the pattern
Color by number (addition and subtraction 1-10). Solve each mathematical conception. Look at the key to color.
Trace the words. Trace and write the words. Color the pictures.
Number bonds – 2. Write the missing number on the rainbow to complete the number bond.
Number order. Cut and paste the number in the correct order. Color the pictures.
My name. Color The pots with the letters your name. Answer the questions.
Shape coloring. Use the code to color the ghosts.
Alphabet match. Color and cut the pictures. Insert uppercase letters to uppercase.
Moon sorting. Color the number in blue. Color the letters is pink.
Halloween Worksheets PDF
What a fun holiday to design worksheets around.
This set of 20 math and literacy worksheets is full of the cutesy spooky. There are castles, monster friends, smart spiders, and all kinds of other little critters. Of course there are pumpkins thrown in everywhere, ghosts, and bats.
These Halloween kindergarten worksheets are ready to print and go. They cover all kinds of topics and are aligned with common core kindergarten standards. The math worksheets include counting, addition, subtraction, making 10, and more. The literacy worksheets include letter recognition, tracing, writing and more.
You can print they as in a black and white as in color format.